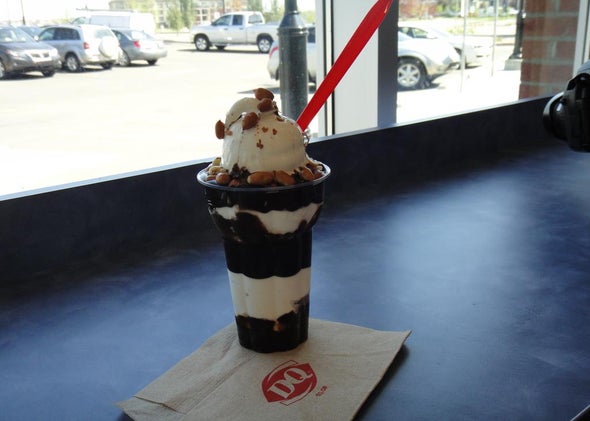 Dairy Queen—heartland standby and a jewel in the crown of Berkshire Hathaway—has finally made its way into Manhattan. The ice cream and fast-food chain began selling Blizzards and other frozen delights here on Thursday; people reportedly began lining up for a taste of the chain's signature soft-serve cones as early as Wednesday night.
These Blizzards are hitting New York's streets just in time for summer, but also as anecdotal evidence suggests that the city's craze for frozen desserts has waned. Independent frozen-yogurt shops have closed and planned storefronts have been replaced by claims for unpaid rent in recent months. Outposts of bigger chains like Pinkberry and Red Mango have also shuttered their doors. Granted, not all frozen dairy products are created equal, and the customers who seek out a chocolate-dipped cone are not the same as those who get a fruit-covered cup of fro-yo at 16 Handles.

Dairy Queen is also in the hot-food business. The chain bills itself as "DQ Grill & Chill," serving up burgers, chicken tenders, and french fries. And the DQ has another competitive edge in Berkshire Hathaway's own Warren Buffett, who reportedly ordered Dairy Queen in vain during an April stay at the Four Seasons. According to Page Six, Buffett had to settle for chocolate chip cookies instead, but next time he has a hankering for a Turtle Pecan Cluster Blizzard Treat, New York won't let him go hungry.
---