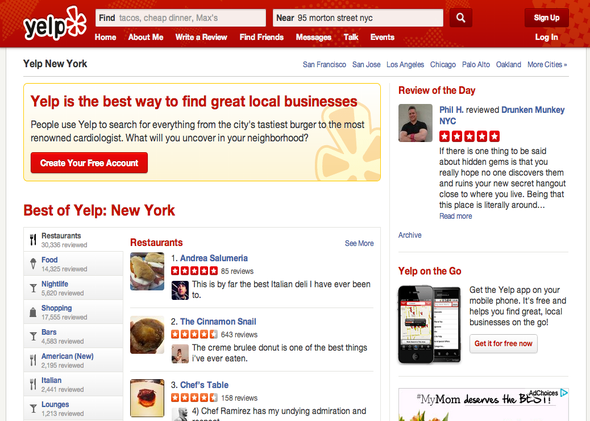 One day after Twitter disappointed with weak user growth metrics, Yelp impressed investors with new sign-ups from both consumers and local businesses. The company said that its average monthly unique visitors grew 30 percent year over year and that local business accounts expanded by 65 percent, to approximately 74,000, in the same period. And while Yelp didn't make money in the first quarter, its net loss of $2.6 million, or $0.04 per share, was an improvement on the $0.06 hit that analysts had anticipated.

Quarterly revenue at Yelp also rose 66 percent over the first quarter of 2013, to $76.4 million. The jump was partly spurred by higher revenue from local advertising on mobile devices, Reuters reported. Yelp's monthly average unique visitors on mobile grew 52 percent year over year, and the company said it had "high engagement" on mobile. On the heels of its first-quarter momentum, Yelp raised its 2014 revenue forecast to between $363 million and $367 million, up from the $353 million to $358 million range it gave in February.

Yelp's stock is rising in after-hours trading, up about 4 percent or $2.50. Weak first-quarter news from Twitter had dragged down Yelp during Wednesday's regular session, as analysts worried that user growth problems in the micro-blogging site might indicate similar issues in the online consumer review company. Needless to say, the company's earnings proved otherwise.

Earnings aside, the fact that Twitter weighed on Yelp so much on Wednesday was odd. While shares of tech companies often march in lockstep, Yelp and Twitter are two different businesses with two separate operations. Twitter aspires to be a popular social media hub. Yelp talks about closing the gap between people and local businesses through consumer reviews. Sure, they both rely on users and experiment with fun features like emojis, but as far as market valuation goes, it's concerning when a plunge in one prompts an unequivocal rush to sell the other.

---