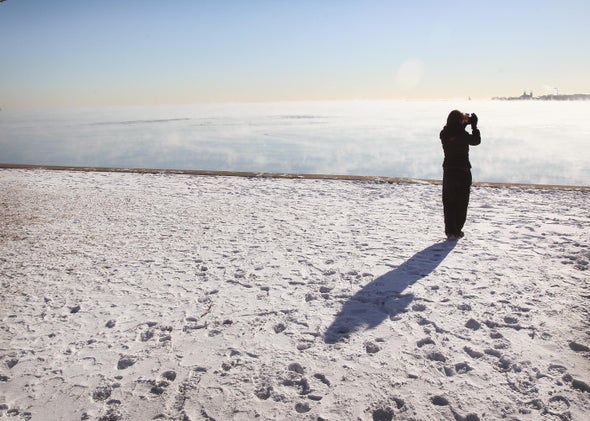 Midway through Passover, Jewish families across the country are reckoning with the one plague no one could avoid—the polar vortex.
Whitefish, the main ingredient in the Jewish holiday staple known as gefilte fish, is in short supply after record lows and a lingering deep freeze have left the Great Lakes ice-coated and inaccessible to fishermen. Distributors are feeling the pinch as they've turned away requests for the fish while customers are torn between feeling nostalgic for tradition and secretly pleased to forgo an appetizer that, according to some, tastes like cat food.

To get a sense of how bad and wide-ranging the whitefish shortage really is, I called up Kevin Crespel, a manager at Universal Seafood in North Hollywood. Crespel said his company usually sells a couple hundred pounds of whitefish a week, but lately it's dropped to basically zero. They've been substituting with another fish, a Mediterranean white seabass, which, he assured me, is still kosher.

"It's the worst deep freeze since 1979, when 95 percent of the surface was covered," he said. "Now it's around 90 percent. It's still melting and the boats can't get out because there are still chunks of ice everywhere."
Even if they can get onto the lakes, many fishermen choose not to take that risk. The nets they use to catch whitefish can cost tens of thousands of dollars, and one or two snags on a sharp bit of ice can render them useless. Whitefish comes mainly from the Great Lakes and western Canada.
As supply dwindled, prices shot up. Crespel said whitefish typically sells wholesale for $9.95 a pound, but lately has risen to $14.95 a pound. Consumers are likely paying even more than that, by the time local distributors and delis tack on their own fees. "People aren't really willing to pay that right now," he says. The Mediterranean white seabass, on the other hand, costs a mere $7 a pound.
Universal Seafood has held up fine through the shortage because whitefish is a small, if consistent, part of its business. Even with warmer temperatures around the corner for most of the country, Crespel said it could be weeks or even months before the ice melts enough to let fisherman resume their activity on the Great Lakes.
Thankfully, not all is lost for Passover observers. Unlike 2008, there's no shortage on matzo.
---