Remember those horrible snowstorms that backed up traffic for miles in place like North Carolina and otherwise made us all want to hibernate? Well, they pretty much buried the U.S. economy, too. The government reports today that real gross domestic product grew at a measly 0.1 percent annual rate last quarter, as exports and business investment declined. Most economists seem ready to chalk up much of the slowdown to the miserable winter weather, which kept shoppers indoors, slowed construction, and otherwise turned the last few months into a cold and soggy mess. Chances are, there will be some rebound this quarter—a spring awakening, if you will.

Still, one part of the report seems like a genuine cause for concern: housing. Residential investment has now fallen for two straight quarters. Some of this, again, was the winter at work—nobody wants to pour a foundation when there's sleet and snow coming down. But we may also be witnessing the chilling effect of the Federal Reserve's decision to taper its bond buying, which had been meant to put a lid on interest rates. As the Wall Street Journal pointed out a few days ago, new mortgage lending is now down to a 14-year low, due in part to rising rates that first jumped after Ben Bernanke hinted at the taper last May. The real drop has been in refinancing. But borrowing for new homes is basically flat, which isn't exactly ideal.

The WSJ summed it up nicely in this clip-and-save infographic: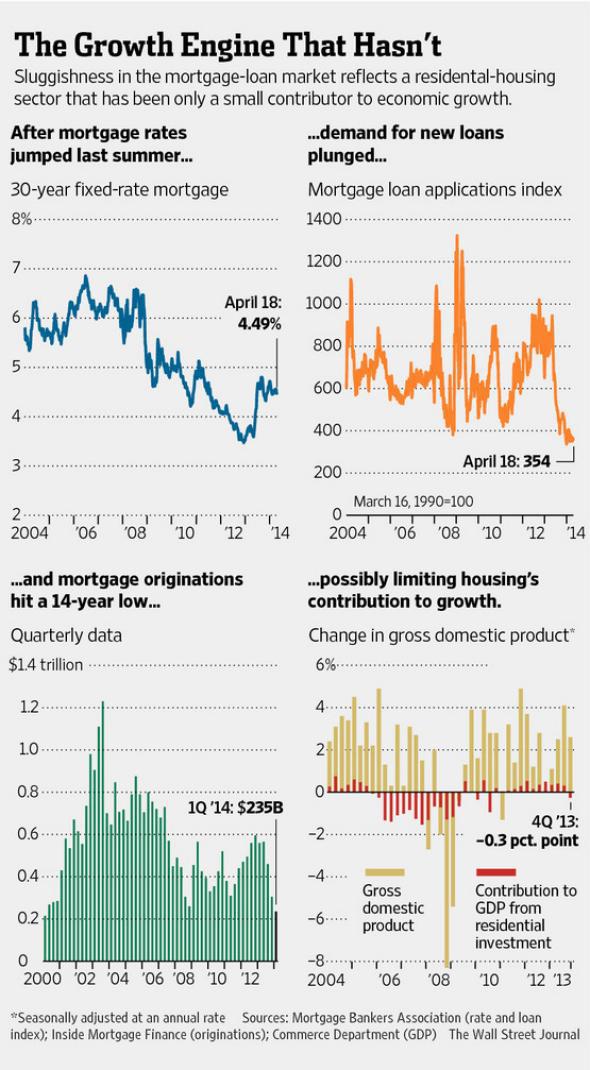 The U.S. can grow without a booming housing market, but probably not very fast. And no, in case you were wondering, nobody really expects the Fed to reverse course.