Last week, the Internet worked itself into a fit after ESPN aired a segment on the lingering scandal at the University of North Carolina–Chapel Hill over fake classes the school created for athletes to boost their GPAs. As with most viral stories, this one included a killer image: a camera shot of a 146-word, grammar-challenged final "essay" on Rosa Parks that, it seemed, had earned one lucky jock an A-.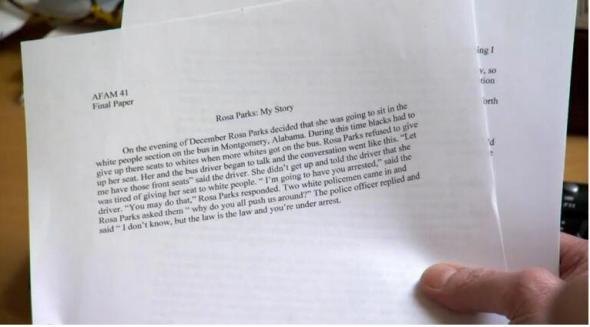 For those who would prefer not to squint, here's the text.
On the evening of December Rosa Parks decided that she was going to sit in the  white people section on the bus in Montgomery, Alabama. During this time blacks had to give up there seats to whites when more whites got on the bus. Rosa Parks refused to give up her seat. Her and the bus driver began to talk and the conversation went like this. "Let me have those front seats" said the driver. She didn't get up and told the driver that she was tired of giving her seat to white people. "I'm going to have you arrested," said the driver. "You may do that," Rosa Parks responded. Two white policemen came in and Rosa Parks asked them "why do you all push us around?" The police officer replied and said "I don't know, but the law is the law and you're under arrest.
The picture seemed to distill the entire UNC scandal to a single block of text. It also seemed to stand for the idea that many big-time college athletes are utterly unprepared for college work and are never really given the education they are promised in return for their skills on the field. I posted my own quick take—as did a whole slew of other news sites.

The story behind the essay, however, was more complicated than we thought. According to ESPN's source, what the network's cameras captured was not a paper from one of UNC's fake classes. Nor was it necessarily a finished piece of work. It was most likely a draft of one piece of a take-home final for a legitimate introductory course. The student did not earn the A- for the paper specifically, but for the entire, completed class.

So instead of evidence of specific academic corruption, the image merely seems to be visual proof that UNC admitted athletes with grade-school-level writing skills and awarded them high marks.

In its feature, ESPN interviewed Mary Willingham, the UNC learning-specialist-turned-whistleblower who exposed the fake courses issue to the public. "I became aware of this paper class system, that students were taking classes that didn't really exist," Willingham told the cameras. "They were called independent studies at that time and they just had to write a paper." Students, she noted, were not required to actually attend any classes.
Later in the feature, former UNC football player Deunta Williams explained that he believed the coaches were in on the scam. At that point, ESPN cut back to Willingham holding the now notorious paragraph. Here's a transcript (the section starts at around 3 minutes).
Williams: I think the coaches knew enough to understand what was going on. I think they knew about the system itself. And if a guy was in trouble, the immediate response was why not put him in a paper class where he can receive help. Get an A or a B out of this class for writing a good paper.
[Camera cuts to Willingham holding out the one-paragraph paper]
Willingham: This is not even close to college work, yet this athlete was awarded an A-.
Though Willingham never explicitly says so, ESPN's editing seemed to create the impression that the paper in question was actually from one of the fake courses. But after the essay began making the rounds on Twitter, Willingham clarified that was not the case.
After updating my story (and receiving more than one piece of angry email from UNC fans about my initial post), I contacted Willingham to get more details about the essay's origins. Willingham told me that ESPN had asked her to show them some of the hundreds of writing samples she keeps on file from the athletes she worked with at UNC; she retrieved a pile of them. The Rosa Parks essay, which happened to be on top, was just one typical example of what students regularly showed her. She said she never told ESPN that it was from one of the fake courses.
Online commenters have noted that AFAM 41—the class name listed at the top of the essay—was a legitimate intro course in the African American studies department and would have required more than a single-paragraph essay to complete. Willingham said that was correct. She also told me that the paragraph was "probably part of a larger [take-home] test," but that since she did not have a course syllabus, she could not say for sure.
Willingham also confirmed the paper was a draft, though she could not say what sort of edits the student might have made. When it came to graded assignments, she said, she personally could only offer general guidance to students and would not have gone and rewritten the essay herself. Willingham said that although she did not know what grade the student-athlete received on his final, she did know his class grade, because as a learning specialist, she was involved in clearing him for NCAA compliance.
"It's an original document from an athlete for an essay—for a final. That's all I know," she told me, later adding, "That is the grade level the person was writing at. That's the point."
And that is a fairly powerful point. Perhaps this student had excellent class participation, or did well on a multiple-choice exam—we don't know. But if Willingham is showing a legitimate sample of an athlete's work, it suggests a student was awarded an A- in a college course despite only being able to write with grade-school aptitude. That is a scandal.
Since the details of this story have become more clear, I've been debating whether this was another example of a viral nugget being "too good to check." And to some degree it was. On the one hand, ESPN, possibly through an accident of editing, seemed to imply that this essay was from one of the fake courses its segment focused on. On the other, the segment never explicitly stated that was the case. Web writers, myself included, did ultimately jump to conclusions based on that impression, rather than on hard, verified details. In the end, though, I don't think the details change much of what this image stands for: a student-athlete who could not possibly have been receiving the education he came for.