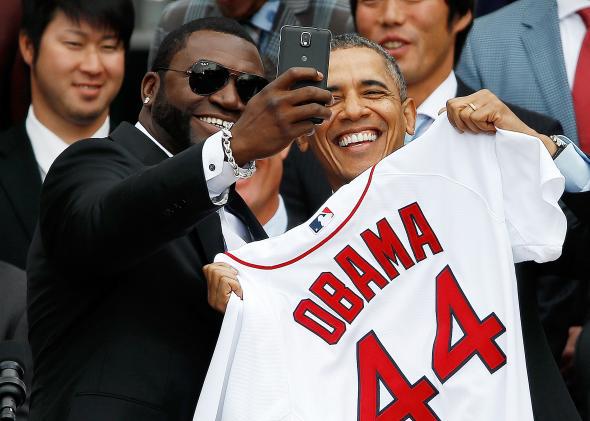 Red Sox slugger David Ortiz lit up the Internet earlier this week when he tweeted a selfie that he took with President Barack Obama. The post got more than 40,000 retweets and 47,000 favorites, and was even featured on ESPN.
If anyone was more excited about the moment than Red Sox Nation, it was Samsung. The company immediately picked up the selfie—which, it pointed out, had been taken with a Samsung Galaxy Note 3—and promoted it to its five-plus million followers. "We were thrilled to see the special, historic moment David Ortiz captured with his Galaxy Note 3 during his White House visit," Samsung told the Boston Globe. "It was an honor to help him capture such an incredible and genuine moment of joy and excitement."
Not so genuine or spontaneous, actually. It turns out that Ortiz had inked a new endorsement deal with the cellphone provider just one day earlier. Now the White House is pushing back against the commercial use of the president's image by Samsung.

"As a rule the White House objects to attempts to use the president's likeness for commercial purposes, and we certainly object in this case," Carney said in his Thursday news briefing.
The incident is yet another example of the hidden social-media promotions that drive the Federal Trade Commission crazy. The regulator is fighting an ongoing battle against advertisers that produce what it considers "inauthentic content"—namely, ads that don't obviously look like ads. Most recently, the FTC chastised Cole Haan for a Pinterest shoe contest that it felt was a deceptive form of marketing.
For his part, Ortiz has denied orchestrating the stunt for Samsung's benefit. He told the Boston Globe on Wednesday that the selfie was his own idea. "That was one of those things that just happened," he said. "I gave him the jersey, and the photographers were going to take their pictures and I thought, really at the last second, maybe I should snap a shot with my phone while I have the chance. It had nothing to do with no deals."
---