This story first appeared in Inc.
Doug Ulman remembers the day that everything went south.
It was a Wednesday in October 2012, and Ulman, CEO and president of the Livestrong Foundation, had just received the inevitable news he had been dreading for months: The United States Anti-Doping Agency's long-awaited and damning report, which concluded once and for all that Lance Armstrong, the cancer charity's founder and chairman, was guilty of doping during his legendary cycling career.
Ulman had believed his good friend's declarations of innocence over the years—believed them, some would argue, to the point of denial. But now, there was no more hiding. "That was the first moment when I realized, OK, it's true," Ulman says months later, his fingers nervously drumming a couch cushion in Livestrong's Austin, Texas, headquarters. "Then, it was just pure adrenaline.""
Faced with the report, Ulman called an all-hands meeting, squeezing the foundation's 100-person staff into the boardroom, forcing them to get close. "I never get nervous around the team, but I was definitely nervous this time," he admits, recalling the somber, expectant stares all around him.
"I haven't read it yet," he told the group. "But I've heard enough about it to know that even if 50 percent of it is true, it's true."
For Jennifer Long, Livestrong's director of marketing, hearing the words from Ulman's mouth was a watershed. "I remember him saying, 'We're not going to defend him anymore,'" she says. "That was the moment."
It would take Armstrong another three months to deliver his apology to the staff, but it would take Ulman much longer to figure out how to fix what his friend had broken.
And break it Armstrong most certainly did. Since late 2012, the once high-flying charity—which has raised some $500 million over the years to help 2.5 million patients, caretakers, and survivors get access to services such as fertility preservation, clinical-trial matching, and insurance assistance—has lost some of its biggest sponsors, including Nike and RadioShack. Revenue fell to $38.1 million in 2012, from $46.8 million the previous year, and it continued to fall throughout 2013. Last year, 13 of Livestrong's 100 employees resigned.
But as tempting as it is to write Livestrong off as a hopeless case, that's not necessarily so. Slowly and soberly, Ulman has been dreaming up a new future for the foundation, one in which it is not bigger and grander but smaller, humbler, and focused purely on the cancer survivors for whom it was founded. Livestrong may never be what it once was. But it could be something different, and maybe even something stronger.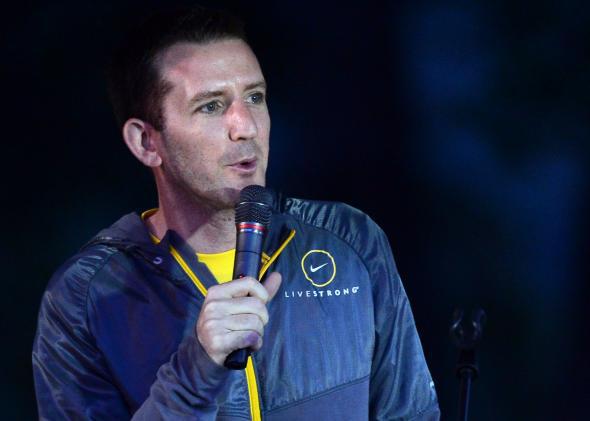 The Lance Armstrong scandal has been a dark period in Ulman's life but by no means the darkest. That actually came when he was a 19-year-old soccer player at Brown University and he got three separate cancer diagnoses within the span of a year. First, it was chondrosarcoma, a form of bone cancer, then he had two bouts with melanoma.
Ulman can still feel the knot that formed in his stomach as a surgeon delivered that first diagnosis and suggested, without apology, replacing part of Ulman's spine with a metal rod. "Unfortunately, you'll never run again," the surgeon blankly told him. "But, hopefully, you'll walk normally."
"I was like, 'That's not good enough! That's not my life!'" recalls Ulman. As I sit in his private meeting room in Livestrong's 35,000-square-foot offices, a LEED-certified beauty that's all skylights and reclaimed wood, it's easy to imagine Ulman as that idealistic young athlete, suddenly derailed by cancer. He's 36 now but still boyish, his face having never fully grown into a pair of slightly oversize ears.
In all three cases, Ulman was cured with surgery (he got a second opinion about his spine, and today he runs marathons). But the experience inspired him to launch the Ulman Cancer Fund for Young Adults in 1997, which is how, as the oft-told story goes, he came to be discovered by Armstrong, another young cancer survivor who had just launched what was then known as the Lance Armstrong Foundation. In 2001, Ulman moved across the country to become the charity's head of survivorship. Six years later, he became CEO.
Then the great unraveling began: a Department of Justice investigation, and a parade of primetime interviews with sorrowful cyclists fingering Armstrong as their ringleader. Day by day, year by year, the evidence mounted. All the while, Ulman, either out of loyalty, faith, or willful ignorance, failed to distance the foundation from Armstrong. "Regardless of what anyone says, Lance Armstrong has been one of the most tireless and effective cancer advocates in the world," Ulman wrote in a June 2012 blog post, after the Anti-Doping Agency first leveled its charges, accusing Armstrong of using, possessing, and distributing performance-enhancing drugs.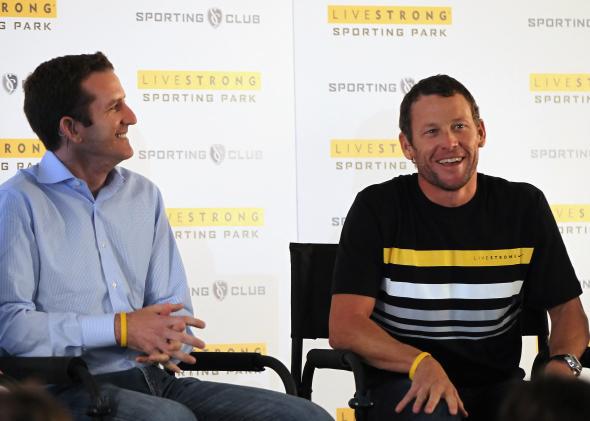 But if Ulman really was that blind, many of his employees were not. "I wasn't under any illusions," says Livestrong's IT administrator, Willy Snell, a 10-year veteran of the foundation. "You could look at what everybody else in cycling was doing and put two and two together."
Finally, by October, even Ulman was forced to admit the truth. For weeks, he was in survival mode, barely pausing to eat or sleep. It wasn't until November, after Armstrong had resigned from Livestrong's board, that Ulman says it really hit him. He was in Geneva, for a board meeting of the Union for International Cancer Control, when one of his fellow board members asked if he had lost weight. "For me, that's not something you want to hear," he recalls months later, eyeing his skinny figure. But the board member was right. Ulman weighed himself and found he had lost 9 pounds in six weeks.
"That's when I realized this had been a big experience," he says. "We've been through some exciting things and some stressful things over the years, but this was …" Ulman pauses, and whether he fails to find the right words for what he has been through or decides against hyperbole, he settles on, "tough."
One evening in early January 2013, an email went out to the entire Livestrong team: Meet in the boardroom tomorrow. An announcement will be made. When the staff arrived the next morning, the front windows were covered up to block out the press that was trailing Armstrong throughout Austin. Employees packed into the room shoulder to shoulder, sat on the floor knee to knee, and in hushed anticipation, they waited.
Then, in he walked. Armstrong, so famously cocksure, was shaking. And so it happened that Livestrong's once exalted founder offered up his apologies to the very people who had believed in and defended him most. Then, he added that he would be giving a tell-all interview that would air later that week. In a sure sign of contrition, he had gotten himself booked on Oprah. It was only there that he finally confessed to doping.
In a matter of minutes, it was all over. "Some people were crying, some were angry," Michael Nestor, a member of Livestrong's human resources team, remembers. "Some were shell shocked."
"I didn't really see it as an apology," Allison Watkins, Livestrong's director of brand partnerships, says. "I was like, 'How can I really believe anything you're saying, or your sincerity?'"
Meanwhile, Melissa Stewart, who oversees Livestrong's direct services for cancer patients, was watching Ulman. "You could tell just by looking at them they weren't on the same page," she says. "This time it was very clear Doug was like, 'OK. You've got the floor.'"

If Ulman harbors any ill will toward Armstrong, he keeps it locked up tight. "I don't think I ever felt betrayed," he says. "Were there points when I was upset? Disappointed? Frustrated? Absolutely. But I was not angry at him."
That anyone could be so forgiving is hard to imagine. Livestrong was besieged following Armstrong's admission, with nasty calls rolling in to the patient help line regularly. "We had callers who were like, 'You guys are no good. You guys shouldn't be around,'" remembers Sarah Gómez Wauters, who connects patients with Livestrong's services. "The worst thing that happened, though," she adds, nervously, "and I don't know if I should be telling you this, but, someone sent us a box of cut-up wristbands."
It's 8 o'clock on a sticky morning last September, and "Mr. Big Stuff" is blasting from Livestrong's loudspeakers. The entire staff is gathering after a weeklong vacation, which was preceded by a weeklong retreat.
"There's been a lot of nervous energy here," Ulman says. "A lot of 'Am I going to have a job?'" The break—and the funk, it seems—was his attempt to hit the "reset" button on morale.
Today, Ulman is pulling back the curtain on his strategy going forward. Step One in that strategy: Be realistic. Beyond its direct services, Livestrong also lobbies the government, conducts research on survivors, and funds smaller nonprofits like Camp Kesem, a camp for kids whose parents have, or have died from, cancer. Each program is more worthy than the next, but to survive in a post-Armstrong reality, the foundation has to learn to do more with less. Seven programs have been cut already; this year, Ulman expects to drop at least 10 more.
The good news, however, is that Livestrong has an astonishing $107 million in assets, a figure so large critics have pounced on Livestrong for stashing it away. Now, that decision is looking remarkably prescient. As Ken Berger, president and CEO of the charity watchdog group Charity Navigator, puts it, "That war chest is going to help them weather this difficult time."
Opportunities may even exist, post-Lance, that eluded Ulman before. For years, Livestrong has researched how cancer patients are treated both before and after they're cured. But though Livestrong has done an exemplary job illuminating the flaws in the system, "it's been really complicated and academic," says Ulman. "We've been looking for a way to bring that to life."
Enter the University of Texas at Austin's new Dell Medical School. Last year, Ulman and his team met with UT about designing its new cancer center from scratch to create a model of care for hospitals and clinics around the world. It's taken nearly a year of planning, but Ulman says, "My hope is that between now and the end of the second quarter we'll announce a major partnership with UT–Austin."
That kind of partnering may be the new normal for a leaner Livestrong. Last winter, the foundation launched a crowdsourcing competition to find new products for patients. It has also begun designing tech tools internally to help scale Livestrong's direct services.
According to Doug White, a professor of fundraising management at Columbia University, recommitting to the mission will be Livestrong's salvation. "You go back to the fundamental question: What would society be like if we didn't exist?" White says. "You have no idea how many charities can't answer that question. I get the impression Livestrong can."
Despite these promising signs—and Ulman's supernatural penchant for optimism—there are still plenty of open questions in Livestrong's future. "My biggest fear," Ulman confesses, "is that people internally will always compare us to the past, and I don't think that's a fair comparison."
"It's never going to be the same," he says, with startling candor. "In the future, could it be better? It could be." 
See also: The Compelling Case for Giving Employees More Freedom