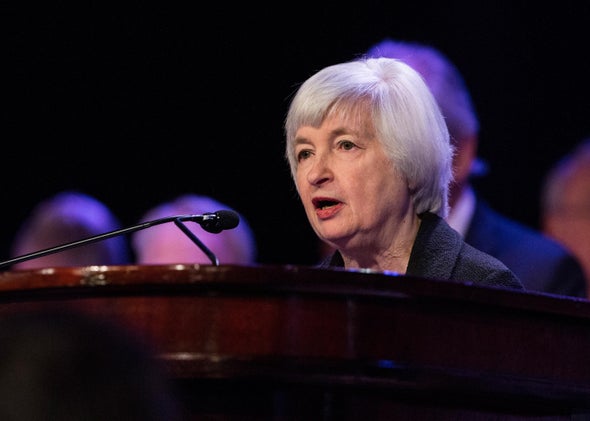 In case you missed it, Janet Yellen spoke today at the Economic Club of New York. Most of her comments were familiar: She reiterated Fed officials' expectations for continued, moderate economic growth and for short-term interest rates to remain low for "some time." She said the central bank projects the economy could return to healthy levels of employment and inflation by the end of 2016.
"If this forecast was to become reality, the economy would be approaching what my colleagues and I view as maximum employment and price stability for the first time in nearly a decade," she said.
Yellen outlined three big questions that central bank officials will consider as they assess the ongoing economic recovery:

Is there still significant slack in the labor market?
Is inflation moving back toward 2 percent?
What factors may push the recovery off track?
Labor market slack was a focus of Yellen's first public speech back in March, where she argued against giving up on the long-term unemployed. On Wednesday, she said again that the high long-term unemployment rate might fall if the economy picks up steam.
Inflation has slowed as of late, and Yellen said inflation that persisted below 2 percent could "pose risks to economic performance" by allowing adverse economic events to trigger deflation. She noted that as slack in the labor market diminishes, the Fed expects to see less of a drag on inflation.
With regard to the third and final question, Yellen gave the catch-all response of "myriad factors continuously buffet the economy."

One interesting and newish point in Yellen's speech was a shifted evaluation of how the harsh winter may have affected financial markets and the broader economy. In her March speech, Yellen said weather was "in part" to blame for the recent slowdown in economic activity. On Wednesday, she modified that statement to say a "significant part" of the lag could be attributed to weather.

---