Keep a close eye on your grocery bill, because food prices are climbing. Tuesday's release of the March Consumer Price Index showed that food costs rose 0.4 percent for the second consecutive month. Over the past year, grocery costs have increased 1.4 percent.
Breaking this down a little more, meats, poultry, fish, and eggs posted the biggest price jump in March at 1.2 percent, while dairy prices added 1 percent. Fresh fruits shot up 3.1 percent and fresh vegetables declined 1.6 percent, with the overall fruits and vegetables index gaining 0.9 percent. You can see the recent leap grocery food prices ("food at home") have made compared with the overall CPI in this chart: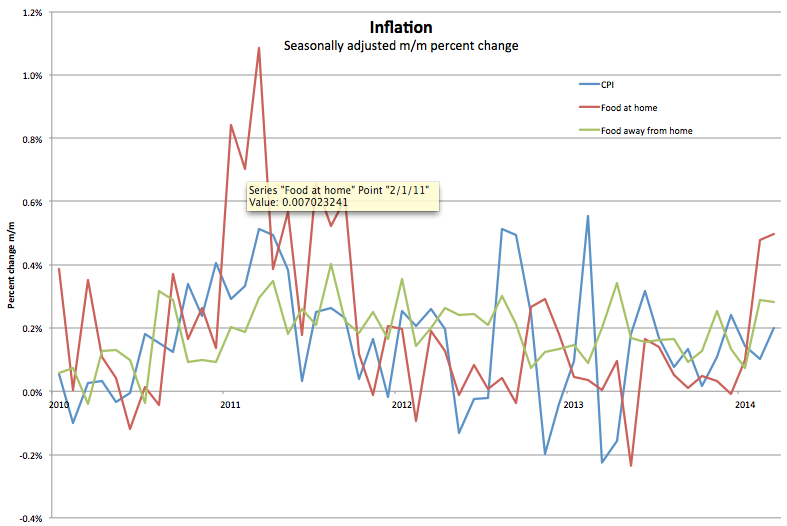 Chris Christopher, an economist at IHS Global Insight, said the upward trend in food prices is "somewhat worrisome" because it means consumers will be spending proportionately more of their income on trips to the grocery. That leaves less pocket money for other discretionary spending, which isn't great for the economy.
As most avid carnivores are probably aware, meat prices have risen faster than almost every other food group for some time now. A deadly pig virus has limited the pork supply, and the domestic cattle herd is the smallest since 1951, according to Bloomberg. Feed prices for farmers also threaten to move higher, in part because of the conflict in Ukraine, a major exporter of corn and wheat.
On the produce side of things, prolonged drought and a long, cold winter have blighted fruits and vegetables. Even cereals and bakery products have gotten a tad more expensive, with prices inching up 0.2 percent in March.
While hikes in food costs are never ideal, Christopher worries that this one is coming at a particularly inopportune moment, especially for low-income families. The U.S. food stamp program, SNAP, suffered huge across-the-board cuts last November, and another round of reductions is underway in some states.
In better news for grocery-goers, the food-pricing surge may taper off soon. IHS Global Insight expects costs to increase through the second quarter of 2014, but then more or less plateau for the rest of the year.