Perhaps nobody has profited quite so handsomely from the college sports arms race as the top coaches in NCAA football and basketball, who routinely pull down seven-figure paydays.
But who knew that these were boom times for golf and tennis coaches too?
The American Association of University Professors is out with its latest annual report on the economic health of its members' profession. Executive summary: It's pretty weak. But this year, the AAUP has added a fun little wrinkle by comparing the growth of academic and sports spending. Particularly intriguing is this chart contrasting pay growth for faculty and head coaches. In the top football and basketball divisions, the median inflation-adjusted pay for head coaches roughly doubled between 2005-06 and 2011-12. But coaches in minor sports didn't do so badly either: In D1-AA golf and tennis, pay packages grew by 79 and 53 percent, respectively. Meanwhile, even at doctoral institutions (shown here as category I), professors only managed a 4 percent real raise over that time.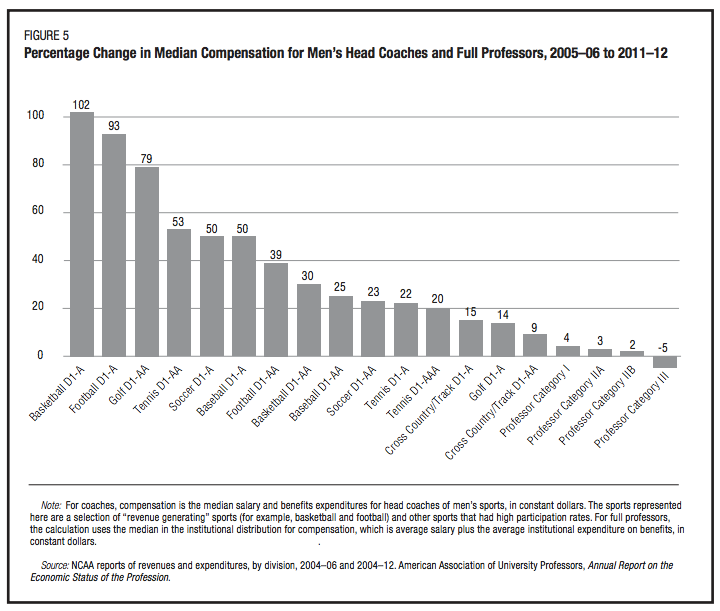 It's no mystery why pay has skyrocketed in basketball and football: Those are the money sports. They're often, though by no means always, profitable, and they bring the most exposure through TV. So the competition to hire and keep competent coaching talent is intense. But golf and tennis are traditionally financial sinkholes (albeit small ones). Unless you're trying to cater to prep school types—and some colleges, of course, are—there isn't much percentage in maintaining an elite golf or tennis program, and thus the race to snap up the best coaches should, theoretically, be less intense. It seems safe to assume that the rising tide of athletic spending is simply lifting all boats.
That said, this chart is being a tiny bit unfair by juxtaposing the profs and jocks. On any given campus, there will be far more full professors than head coaches. That means a relatively small increase in faculty pay, distributed across a whole institution, would add up quickly. Second, the report is comparing the biggest stars from one field (the head coaches) to a slightly dimmer, much larger mass of talent from another (the academics). It would be interesting to see what this chart would look like if the professors were just represented by the highest paid faculty member of each department. I doubt they would suddenly pull into the lead, but their raises might seem a little less picayune.