This story first appeared in Inc.
In six years, Interscope records mogul Jimmy Iovine and hip-hop icon Dr. Dre have turned Beats by Dr. Dre headphones into a $1 billion-plus business. Now, together with new president and former Interscope executive Luke Wood, they're faced with a new challenge: taking a hot brand and making it, you might say, even hotter.
To that end, Beats Electronics has introduced portable and wireless speakers, co-branded smartphones—and in January it even launched a new streaming music service, Beats Music, to compete with the likes of Spotify. Beats Electronics, despite some ferocious competition, still controls almost 70 percent of the market for premium headphones. For that it can thank lightning-fast marketing and an unbeatable grasp of pop culture. Iovine and Wood explain how they and Dr. Dre pulled it off—and what they have to do to stay on top.
Find the Golden Niche
"You've got to be lucky enough to identify a problem where you think you can help," says Iovine. Back in 2006, Iovine felt the music industry had two problems: first, the degradation of record sales because of piracy. Second: the degradation of audio quality because of Apple's plastic earbuds. "Apple," he says, "was selling $400 iPods with $1 earbuds. Dre told me, 'Man, it's one thing that people steal my music. It's another thing to destroy the feeling of what I've worked on.'" But the Cupertino, California, tech giant was both their bane and their inspiration. "Steve Jobs was the first to marry technology directly with popular culture," says Iovine. "I thought, Wow, technology is the new artist." He and Dre settled on a plan. "They're making a beautiful white object with all the music in the world in it," Iovine says. "I'm going to make a beautiful black object that will play it back. Dre and I decided to market this product just like it was Tupac or U2 or Guns N' Roses."
Ignore the Critics
"We got dumped on by audiophiles on Day One," says Iovine. Beats headphones weren't tuned evenly, like the usual high-end headphones. They were tuned to make the music sound more dramatic. Iovine adds: "We wanted to recreate that excitement of being in the studio. That's why people listen." But skeptics also wondered why anybody would pay $200 for headphones when you got the earbuds for nothing. "I was like, 'Bad audio is free,'" Iovine says. "When you believe in something, the last thing you say to yourself is, Well, no one's doing this, so there must be no good reason to do it."
Assemble an All-Star Focus Group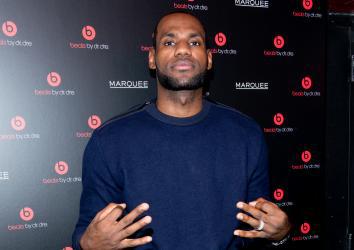 When developing the first Beats headphones, Iovine would lay out various prototypes in his Interscope offices and then poll everyone who came to see him. "It was this incredible parade of the world's great artists," says Wood. "M.I.A. or Pharrell Williams or Gwen Stefani or Will.i.am would come around, and I'd ask them, 'What do you think of this one? What about this? What about that?'" says Iovine. "It's not a numbers thing. I go to people with great taste." As he and Dre prepared to launch the final version of Beats, Iovine sent a pair to another world-famous guy: LeBron James. Iovine had been hanging out in the editing room with James' friend and business partner Maverick Carter during the development of a documentary on the basketball star. "Mav called me back and says, 'LeBron wants 15.'" Iovine sent them, and they turned up on the ears of every member of the 2008 U.S. Olympic basketball team when they arrived in Shanghai. "Now that's marketing," says Iovine.
What Are Consumers Thinking About? Make That
"When we look at marketing for our year ahead, we don't look at what products have the best margin or which ones sell best—that's detrimental to progress and innovation," says Wood. "We ask, 'What do we think the consumer should learn about?'" This year, they're talking a lot about wireless speakers and headphones—"We want to teach people that Bluetooth can sound good," says Wood.
Trust Your Gut and Double Down
"I always go back to my experience in the music business," says Wood. Today, as then, Wood looks for the "tug"—the little sign that he has a hit. Then he trusts his gut, and doubles down. Back in the day, a tug could be an album that gets sudden critical acclaim or a band that suddenly sells a lot of merchandise at its gigs. Now, he says, he gets the same sense from how fans—and Iovine and Dre's music-industry buddies—respond to Beats' ads and products. When an ad featuring Brooklyn Nets star Kevin Garnett with the slogan "Hear What You Want" got a big response on Twitter—and Iovine got complimentary emails from none other than Will.i.am and rapper Diddy—"we knew we had something," says Wood.
Beats rolled out more ads, including one featuring a press conference with outspoken Seattle Seahawks cornerback Richard Sherman, that did even better. It ran in the third quarter of the playoff game against San Francisco. When Sherman talked trash about his opponents in the postgame commentary, the Beats ad also got attention.
Move Pop-Star Fast
When Iovine heard Robin Thicke's "Blurred Lines," he smelled a hit—for Beats Electronics. Iovine and Wood got the rights to use the song in an ad and then got Thicke to reshoot the music video—within five days of the original shoot. Then Wood phoned up the CEO of RadioShack and offered to make the ad a dual promotion; RadioShack partly footed the bill. Beats has moved even faster. The Sunday before Black Friday 2012, Will.i.am phoned Iovine: He had just recorded a single with Britney Spears—would it make a good Beats ad? Within 72 hours, Beats filmed Will.i.am and cut a new Black Friday commercial with the song; it aired during Thanksgiving football games. "We got to break a new song, and Will.i.am got millions of dollars in broadcast advertising exposure," says Wood.
Stand on the Shoulders of Giants
Co-marketing deals with big brands are a big part of the Beats playbook. Since the beginning, they have put Beats audio in products ranging from HP laptops to Chrysler 300s to HTC cellphones—and Beats has enjoyed plenty of the big guys' marketing muscle along the way. "We sold half a billion worth of product before we paid for one ad," says Iovine.
Hide the Gold Records in the Basement
"I'm always thinking about what Beats is not, about what's missing," says Iovine. "When you succeed, don't think you've done this incredible thing. Stay focused on the product. I never collected the gold records of the albums I engineered." (Iovine has worked for U2 and Tom Petty.) "My father asked me why I never put them up. I said, 'Dad, they haunt me. I can't think about anything yesterday.'"
See also: How Brooks, the Seattle Running Company, Reinvented Its Brand