This post originally appeared in Business Insider.
Microsoft authorized a search of a blogger's Hotmail account after it learned that the blogger was receiving leaks from an employee, according to an indictment filed in federal court.
In the case, former Microsoft staffer Alex Kibkalo is accused of using various Microsoft accounts to send proprietary code and software to the blogger relating to an upcoming release of Windows 8, the indictment says.
The blogger is not named.
The events happened in September 2012. At the time an unnamed "source" contacted Microsoft to say they had received some information from a blogger with a reputation for leaking Microsoft software releases ahead of the official launch dates. The indictment says:

Only after Microsoft and its private security company, Trustworthy Computer Investigations (TWCI), finished its probe of the blogger's Microsoft accounts did they contact the FBI, the indictment says. The inside of the blogger's Hotmail appears to be the key to the case: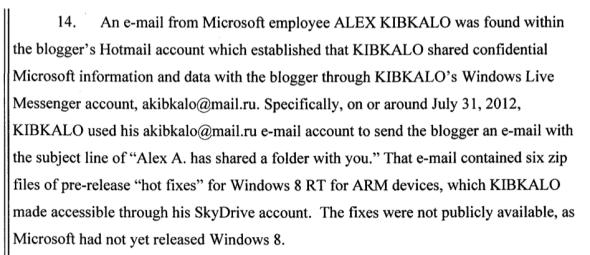 Microsoft gave Business Insider this statement on the case:
During an investigation of an employee we discovered evidence that the employee was providing stolen IP, including code relating to our activation process, to a third party.  In order to protect our customers and the security and integrity of our products, we conducted an investigation over many months with law enforcement agencies in multiple countries.  This included the issuance of a court order for the search of a home relating to evidence of the criminal acts involved.  The investigation repeatedly identified clear evidence that the party involved intended to sell Microsoft IP and had done so in the past.
As part of the investigation, we took the step of a limited review of this third party's Microsoft operated accounts.   While Microsoft's terms of service make clear our permission for this type of review, this happens only in the most exceptional circumstances.  We apply a rigorous process before reviewing such content.  In this case, there was a thorough review by a legal team separate from the investigating team and strong evidence of a criminal act that met a standard comparable to that required to obtain a legal order to search other sites.  In fact, as noted above, such a court order was issued in other aspects of the investigation. 
Kibkalo, who was based in Lebanon, is now believed to live in Russia.
Microsoft's terms of service generally prohibit people from using Hotmail and Microsoft services in ways that are "unauthorized."
See also: Former Microsoft Windows Chief Could Be Huge Witness in Criminal Case Against Leaker