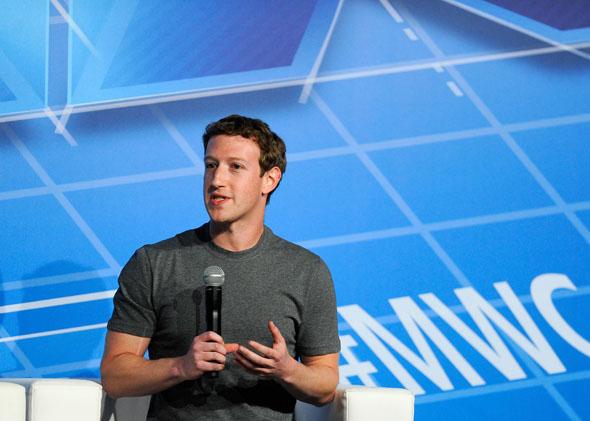 Yet again, Facebook has spent a gaudy sum of money to buy a hot startup. This time, it's virtual reality pioneer Oculus VR, at a purchase price of $2 billion—a relative pittance compared with the $19 billion it shelled out for WhatsApp last month.
Are these prices a bit frothy? Probably, and shareholders certainly seem to think so—Facebook's stock dropped more than 6 percent yesterday on news of the Oculus deal. This comes during a bad month at the markets for Facebook, which has closed down eight of the past 12 days. But don't be surprised if Mark Zuckerberg continues on his buying spree. His company has a goofy-high stock price, and he's clearly willing to take advantage of it. 
My predecessor here at Moneybox, Matt Yglesias, has elegantly explained why Zuckerberg has such a free hand to spend: Facebook was set up to make him a dictator. He may only own less than a third of its shares, but because of its dual class stock structure, he controls more than half the votes on its board of directors. Thus, he can rule by fiat. Right now, Zuckerberg wants to build his empire while simultaneously ensuring it isn't done in by the next hot app. And so Facebook is expanding into sidelines that it thinks represent the future of social.
The question is, what's the most efficient way to do so? Zuckerberg could try to develop technologies in-house, but there are disadvantages to that. The first is speed. Research and development can be slow—especially when it takes place inside a large corporation—and the technology market moves fast. By the time Facebook rolls out a product, it might already be doomed to second place or worse in the market (nobody wants to be Google Plus). That's especially the case in hardware, which isn't exactly Facebook's strong suit.
Beyond that, the DIY approach can also be expensive. Facebook already spends about 16 percent of its revenue on R&D. That's far more than most companies outside of the software business, and roughly on par with Google, which likes to do things like build self-driving cars and computers you can wear on your face. The difference is that Google has more than six times Facebook's revenue. It has enough cash to chase after passion projects and speculative new markets without irking investors, who, as a rule, don't love high R&D spending—that's money which could otherwise be returned to them, after all. Facebook doesn't quite have that luxury.
What it does have is a high stock price—its price-earnings ratio is around 100, more than three-times higher than Google's. That's because most people consider Facebook a growth company; its profits might not justify its share price today, but people think they will tomorrow. At the same time, it's entirely possible the company is just overvalued. Its shares could quickly fall further if Wall Street loses its appetite for tech stocks, or suddenly decides Facebook's future isn't so bright as the market thought. And so Facebook is treating its equity as a bank account, using it to instantly acquire new businesses, which it would have to spend perfectly good cash to compete with anyway. Remember, both WhatsApp and Oculus were mostly purchased with Facebook shares, not cash. That has required diluting its stock a bit, which has almost certainly brought down its value. Essentially, it's made some withdrawals.
This only seems strange because we're used to watching CEOs do their best to prop up their short-term returns in order to ensure their own paydays. But Zuckerberg is already one of the world's wealthiest men, thanks to his shares in the company he founded, runs, and has shown little desire ever to leave. His net worth, if he even particularly cares about it, is best ensured by building Facebook into as large a company as he can. Sacrificing some share price in the short term probably seems like a very cheap way to do it.
---