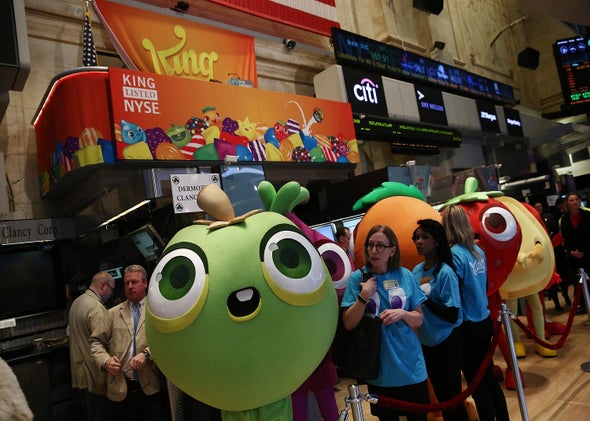 Candy Crush–maker King Digital Entertainment is not reigning supreme on Wall Street.
Shares of King Digital Entertainment PLC, the mobile game–maker behind Candy Crush Saga, opened at $20.50 in its market debut on Wednesday, down 8.9 percent from their IPO price of $22.50. The stock—listed on the New York Stock Exchange under the symbol "KING"—traded in the red throughout the morning and hit an intraday low of $19.08.
As of noon, King was trading around $20.25 a share. That's lower than the $21 to $24 price range the company expected to hit in an initial public offering that gave the company a $7 billion valuation. King and its shareholders plan to sell 22.2 million shares to raise $350 million for the company, plus an additional $150 million for its early investors.
One concern voiced about the King IPO is that it may turn out to be a one-hit wonder. The New Yorker's James Surowiecki noted earlier this month that while King has more than one hundred different games, nearly 80 percent of the company's revenue comes from Candy Crush:
King has done a great job of making money from the game, and of keeping it fresh, but Candy Crush is still a fad, and, like all fads, it will fade. Indeed, as King's filing makes clear, the number of people who pay for the game has already begun to taper off, as have sales and profits.
Precedent has also left no particular comfort for King in this venture. The company's IPO is the largest one by a mobile gaming company since Zynga, the maker of FarmVille, went public in 2011. Since then, Zynga's shares have fallen off roughly 50 percent from their initial IPO price, according to the Wall Street Journal. Zynga also has yet to produce another game as successful as FarmVille.
With its IPO, King has put a share of its fate in the hands of the market. And for now, the market doesn't seem to be buying in.
---