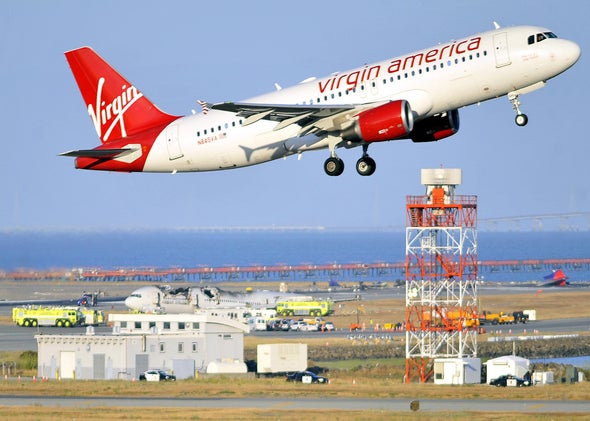 Everyone's been looking for bubbles in the high-tech sector, but if you ask me, it's this news about Virgin America heading for an IPO that's the clearest example of investor enthusiasm soaring way ahead of rationality. The thing about these tech startups, after all, is that there really have been a handful of breakout high-tech success stories that turned into super-valuable companies. The aviation industry, by contrast, has been a huge money-loser in the aggregate with losses during recessions that are far too big to compensate for profits during the good years.
Onto the specifics. Virgin America had been a consistent money-loser during its first six years of operation and then posted two profitable quarters in a row in 2013, which laid the groundwork for today's IPO. And good for them. But this wasn't some example of management genius. Airlines all around the world made money in 2013. It was an all-around auspicious year. Firms were still reaping the benefits of givebacks from workers made during the lean years, but there was no recession in 2013 and fuel prices were kept moderate by the unconventional oil boom in the United States.
If you assume that will just keep on happening then perhaps you should be bullish on the industry as a whole, but that seems pretty nuts.
Then you have the specific problems of Virgin. Right now its paying pilots less than the competition pays. It's been able to argue that with the company losing money, it's a low-paying staff job or no staff job at all. But once you start making money in this industry, then workers naturally demand their share of the pie. And since Virgin is much smaller than its key competitors, it's very vulnerable to facing new competition from a bigger airline with more padding in its route network on whatever it's key flights are. Eventually margins fall, and then you get the next recession and/or oil shock to throw the whole thing into disaster.

Long story short, there appear to be deep structural problems with passenger aviation as an industry. The combination of high fixed costs in the form of airplanes, competition thanks to flexible routing, vulnerability to commodity price shocks, and the unusual strength of labor unions in the sector makes it basically unpromising. Showing that you can make money in 2013 doesn't show that you've made any progress on cracking this problem. The entire industry has existed over the past few decades because entrepreneurs are continually finding some new team of suckers to pour capital into it. Now Virgin America is going to give you the chance to be next.

---