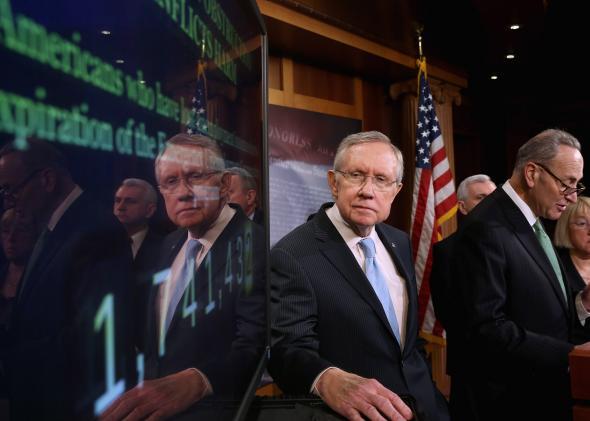 Today is jobs day! The good news is that the unemployment rate fell to 6.6 percent—the lowest it's been since October of 2008. But the news is basically bad.
The economy added 113,000 jobs in January, which isn't horrible, but it's not very good either. And December's very weak 74,000 jobs was revised upwards but only very slightly to 75,000. Now November went up from a strong 241,000 to an even stronger 274,000. Taken as a whole that three-month span isn't awful. But it's not remotely the pace of job growth that you would normally associate with a rapid decline in the unemployment rate.
Now the unemployment rate is calculated based on a different survey (the household survey) from the one where the jobs growth comes from (that's the payroll survey) so it's not strictly comparable. It's tempting to reconcile weak job growth and falling unemployment by pointing to a falling labor force participation rate. But that's actually not what the data says. The payroll survey, which is generally considered more accurate, shows small job growth. The household survey shows rapid job growth. So it's not 100 percent clear what's happening.

This is why in a sense even the falling unemployment rate may be bad news. If everything else about the economy—fiscal policy, the number of employed people, the inflation rate, the GDP growth rate—were the same, but the unemployment rate were higher, the case for looser monetary policy would be ironclad. But the low participation rate and subsequent low unemployment rate create pressure for Janet Yellen to implement tighter monetary policy. She needs to ignore that pressure. Since the Fed started tapering, basically every economic indicator in the United States has started looking worse. And while pre-taper, stepping back from quantitative easing was often framed as a favor to foreign governments, it's clear that the taper is only exacerbating other problems in emerging markets.

---