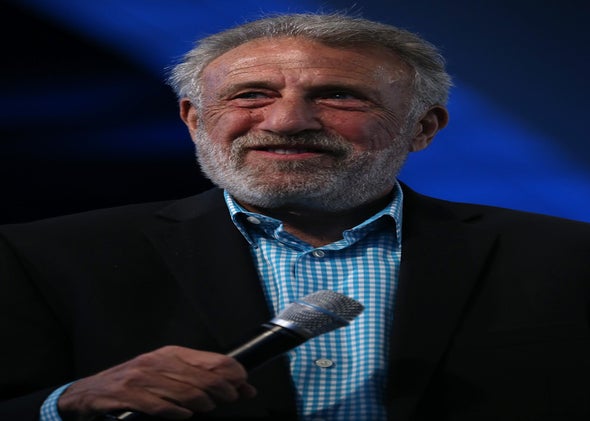 Middlebrow brick-and-mortar retail is not exactly the hot industry of our particular moment in time, but two stalwarts of the sector—Men's Wearhouse and Jos. A. Bank—have been locked for months in a desperate battle over its future. It all began last year when JAB offered $2.3 billion to buy Men's Wearhouse, only to have the offer rejected out of hand and replaced with a proposal under which the Wearhouse would buy JAB instead. The Wearhouse's first offer was $55 a share, which it's raised to $57.50. JAB's management says both offers are too low, just as Men's Wearhouse felt its rival was being stingy with its own offer. But behind the scenes, Eminence Capital has come to own 5 percent of Jos. A. Bank and 10 percent of Men's Wearhouse, and it's pushing hard for a merger; on Monday, Eminence filed a lawsuit to try to force the companies' boards to negotiate.
Under the circumstances, a combination in one form or another seems certain to happen; what has to be sorted out is who would run the combined company and the size of the payoff for the losing management team. But while the business logic of a merger is sound, customers are likely to end up sorry it happened.
The case for a merger is that the two stores are, in a sense, the exact same store. To be sure, Jos. A. Bank is best known for its enormous pseudo-discounts—every day is a soon-to-end three-for-one sale. The idea is first to mark prices way up, then mark them way down. The average customer pays the discount price, but if a handful of suckers end up walking away with something non-discounted, so much the better for profit margins. Men's Wearhouse takes a more restrained approach. Like all retailers, the Wearhouse does some discounts and promotions, but its marketing relied much more on its signature spokesman, founder George Zimmer (ousted last year), and his slightly threatening slogan: "You're gonna like the way you look—I guarantee it."
In the end, though, these are two firms best known for their television ads. And not just for any television ads, but ones that don't say much of anything about the actual clothing. Just that it's suits and stuff and that you're getting a good price and/or a generic guarantee that you'll like the way you look.
In other words, they're stores for men who don't give a damn. They're not necessarily for cash-strapped bargain-basement shoppers, but for men who don't care about fashion or style and just want a presentable suit without getting ripped off. As Eminence diplomatically put it in a presentation on the case for a merger, "Men's Wearhouse services need-based purchases with inventory that is subject to reduced fashion cycles." Its customers, in other words, don't care. They have no opinions about suits or dress shirts. They don't even want to buy suits or dress shirts. But sometimes they have to wear suits and dress shirts, and before you wear a suit you need to buy one.
The thing about need-based purchases is that they're heavily influenced by marketing. You need to buy "a suit" and you're disinclined to spend a lot of money or do a lot of research on it, so you gravitate toward ideas planted in your head by TV ads.
Car insurance companies are such heavy advertisers for this exact same reason. You buy it because you have to, not because you're passionate about car insurance. This is why one of the biggest areas for cost savings identified in Eminence's presentation is advertising. Eminence envisions a reduction of almost 20 percent in the companies' "combined advertising and marketing spend of ~$175 million." At the moment, each of these companies is advertising primarily to prevent the other one from gobbling up all the attention. As a combined firm, both brands could ease up a bit without losing sales. Once you add in the purchasing efficiencies and the kind of back-office savings that merging firms always hope for and occasionally achieve, you have a solid case for a merger.
Where customers ought to worry is in the more speculative aspects of the case. The secret of these midmarket stores is that the quality is decent; Slate style expert Simon Doonan confirmed to me that he'd just been poking around the stores and "the suits in the window looked pretty OK." Not on the bleeding edge of style, but not bad, either. Men's Wearhouse and Jos. A. Bank aren't just places where need-based menswear purchases happen; they're also places that offer a decent value proposition to their customers.
Yet the marketing savings are all about reduced competition. And in part, this is what the purchasing efficiencies are about too. Eminence's presentation refers enigmatically to "optimization" of the real estate footprint. (Projected savings are literally "??") This presumably means that in a less competitive environment they could get away with fewer stores, less convenience, and lower quality. The remaining stores could get away with fewer staff. Most importantly, in an environment without other marketing-heavy national chains focused on menswear, the merged firms might be able to charge higher prices.
There are plenty of companies out there selling men's clothing, so there's no question of antitrust violations or monopolies here. But the particular genius of the merger proposal is to identify a niche within the marketplace that only a few firms serve. By combining the two most important players within that niche, there is ample opportunity to increase profits. It's just that many of those ideas involve imposing pain on customers. For the unfashionable suit-buying men of the world, the best hope by far is that executive ego clashes keep these firms separate.
---