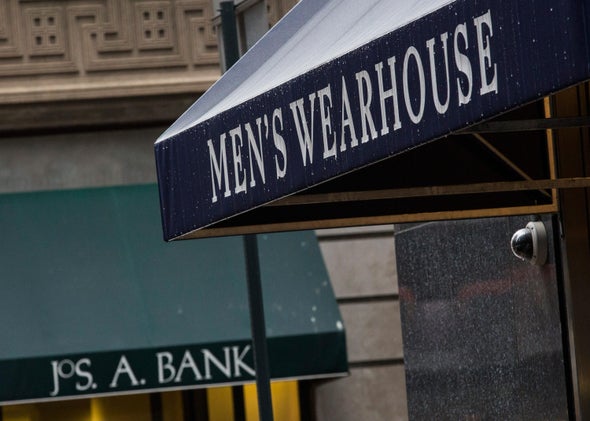 Some months back the menswear company Jos. A. Bank that's known for its slightly silly discounting strategies toyed with the idea of buying Men's Wearhouse, the menswear company known for its terrifying TV ads. But Men's Wearhouse shareholders didn't seem interested in the price JAB wanted to pay. Yet now it's going the other way, with MW offering a $1.6 billion hostile takeover bid for JAB.
To execute a hostile takeover you need to be willing to offer a substantial premium over the publicly listed price of the company—pretty much the opposite of the Jos. A. Bank philosophy where everything is marked up in order to be marked down in a series of never-ending sales.

You're getting these offers and counteroffers because even though the executive teams don't seem to want to work together, the logic of a tie-up is pretty clear. Basically both of these companies are doing the same thing, and they're serving a middlebrow client base that's neither super-fussy about its clothing nor super-stingy about its spending. Consequently, if you join forces you can reduce purchasing costs (by squeezing suppliers and perhaps reducing the aggregate number of things for sale) and reduce marketing costs (since a lot of these TV ads are aimed at poaching the other store's customers). You might even be able to raise prices, but you'd never admit as much to regulators and anyway there are plenty of companies in the suit-selling game broadly construed so there's no antitrust issue.

Correction, Jan. 6, 2014: A previous version of this post misspelled the name of Men's Wearhouse.

---