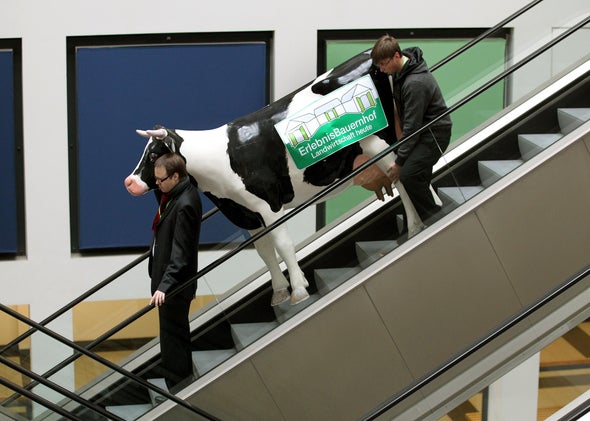 Yep, folks, it's time for another edition of the Federal Reserve's Beige Book—America's premiere collection of random anecdotes about the economy. The big theme this month is that nobody really knows what's happening with cows these days.

According to the Atlanta Fed, for example, "prices for beef and broilers remained unchanged." The Chicago Fed confirms with the observation that "Hog prices moved lower, while cattle prices were little changed." But in Minneapolis "prices increased for cattle," contradicting reports from other districts and emphasizing the need to rely on actual economic statistics for making decisions. Yet another take on cattle is offered by the Kansas City Fed, which says that "[w]hile cattle prices were relatively flat, profit margins for cattle producers may improve as better pasture conditions lessen the need for supplemental feed," but the Dallas Fed says that "cattle producers continued to benefit from low feed prices and high selling prices, prompting optimism for the industry outlook."

Now as it happens there is actually a cattle futures market you can consult if you're interested in real-time information about cattle pricing trends. There is also the U.S. Department of Agriculture's regular surveys of beef prices.

---