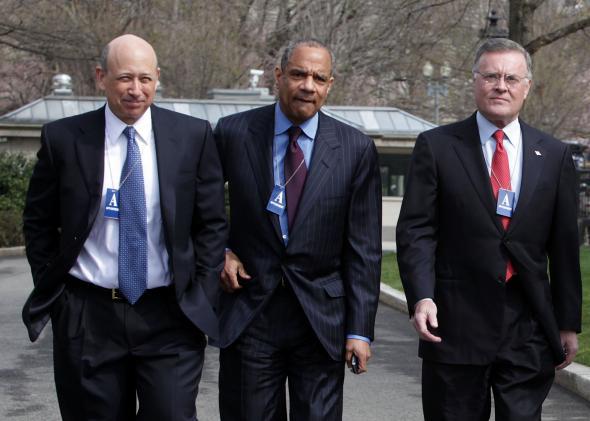 Ben White and Maggie Haberman have a good feature story about incredibly rich financial services people who have far more money than they could possibly know what to do with feeling frustrated by a political process that leaves them stuck with the choice of vast riches under Barack Obama or gigantic tax cuts under Republicans. No, I don't understand it either. Nor do I particularly understand the hankering for a Hillary Clinton administration that will allegedly restore the sheen of some alleged golden days that allegedly existed when her husband was president.
The sort of baffling nature of the complaints is captured here on the second page:
Despite Emanuel's own foray in banking (he earned more than $18 million in a two-and-a-half year stint as a managing director in the investment firm Wasserstein Perella) there was a prevailing sense among these Wall Street Democrats that nobody in the White House understood the industry. Bankers could certainly present their arguments to first-term Treasury Secretary Timothy Geithner, whom many knew from Geithner's tenure as head of the Federal Reserve Bank of New York, but they believed that was as much of a hearing as they would get. "Tim was someone everyone knew and could talk to, but beyond him it's fair to say the business community was uniquely without influence," one senior Wall Street executive says of the early days of the Obama administration.
The financial industry was without political influence in the Obama administration, with the small exception of the Treasury Department. There was nobody in the administration they could talk to, except the treasury secretary. What?
When the CEO of Papa John's complains about the Obama administration, he at least has the decency to say that he thinks the Obama administration's tax and regulatory policies are going to cost him money. He doesn't whine that senior White House staff don't understand the fast-food industry (why would they?) or that he can't make direct phone calls to enough Cabinet secretaries.
Given that most business executives from time to time find themselves wanting concrete tax and regulatory favors from the federal government, they manage to at least keep their egos in check the rest of the time. But Wall Street seems to want low taxes and light regulation and bailouts, and they want political leaders to thank them for it. I think, honestly, that it's not going to happen. You're never going to get a more finance-friendly public figure that Mitt Romney, but even he wasn't giving speeches hailing the virtues of derivatives trading as a vocation. He talked a lot about Staples, because creating a better office supply business seems like a worthwhile and useful thing to do with your time.

---