When Milwaukee was first colonized in the late 1600s, it became a fur-trading post for the French and Native Americans. After the Industrial Revolution and through the late 19th century, Milwaukee became a bustling port city and a hub for work at shipyards, steel mills, meatpacking plants, tanneries, and, of course, breweries.
But, like many former U.S. industrial hubs, Milwaukee has lost much of its clout to globalization and outsourcing. Since 1990, the Milwaukee area has lost more than 41,000 manufacturing jobs: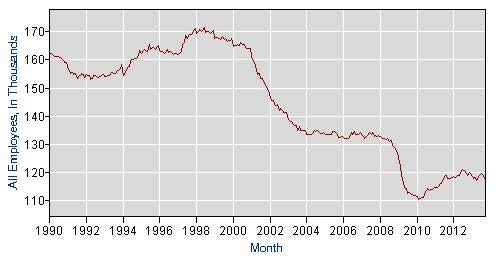 But Amazon's remorseless quest for global domination is bringing a different kind of blue-collar work to the region. In October, Amazon announced it will open a 1-million-square-foot distribution center in Kenosha, which is just south of Milwaukee and 60 miles north of Chicago. On Tuesday, Amazon announced it will be opening a second, 500,000-square-foot center in Kenosha. With the help of more than $24 million in state and local tax credits, the company hopes to have the first center up and running by 2015, bringing in 1,100 jobs. The second center would bring in an additional 575 jobs.
Of course, the jobs won't all entail manual labor:
Kenosha Mayor Keith Bosman said in October average wage will be just over $13 an hour for around 850 employees at the first distribution center. 
The remaining employees will include technicians, computer programmers and managers, earning annual salaries ranging from around $50,000 to $250,000, Bosman said then.
This is great news for blue-collar workers in the area, and unlike the factory work of yore, it's not likely to move to China. Amazon prides itself on quick delivery, and one method for that speediness (besides drone delivery) is having warehouses scattered throughout the United States. Kenosha's proximity to the largest metro area in the Midwest is ideal, and it sorely needs the economic revitalization.