Ever since I published my groundbreaking findings about the best way to board Amtrak at New York's Penn Station (not that I would claim to have discovered this, it's just that traditionally people kept it secret), people have been asking me if there's some way to work around the equally irrationally queuing at D.C.'s Union Station. The answer is: sometimes.
Unfortunately, that means that in most cases the answer is: no.
But not never! These people standing in line for a Vermonter train at Gate K, for example, are being suckers and could easily avoid the line: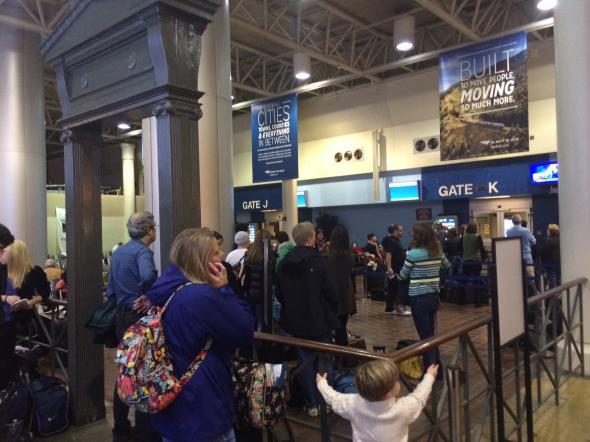 Here's the deal. Union Station hosts MARC and VRE commuter rail operations in addition to Amtrak's intercity trains. Since basically no train operators anywhere on Earth use Amtrak's D.C./NYC boarding method (Amtrak itself does not use this method at its other stations), you can board MARC and VRE trains the same way everyone boards trains everywhere—you wait on the platform, not in a long pre-boarding line. And now here's the secret. Most of Amtrak's Northeast Corridor service terminates in Washington, and most of the tracks at Union Station are stubs. But some of the tracks pass through and lead to Virginia and some Northeast Corridor service continues south.

So the secret is this. If you are northbound on a train that came up from Virginia, then that train will use a platform that is also accessible through the VRE door at Gate L. Make sure to note the track number, walk through Gate L, then you'll have to go up a flight of stairs and you'll find yourself in a little room with doors that give access to a few different platforms. Wait for the train to arrive, walk down, and hop on: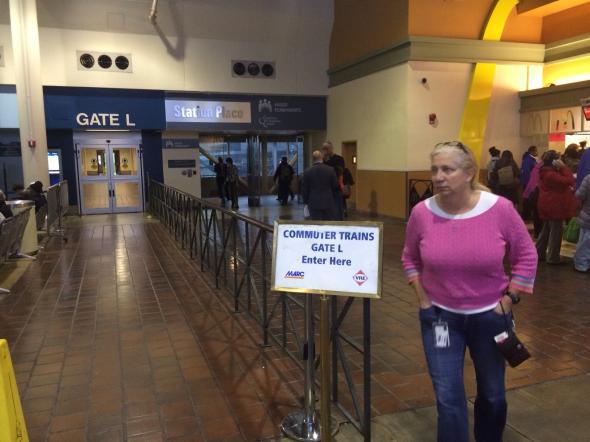 Unfortunately, this doesn't work for Acela trains or most Regional service in the corridor. In principle the same thing will work (except on the other side of the station) if you get assigned to a Regional train that shares platforms with MARC equipment, but unlike Amtrak/VRE platform sharing this doesn't seem to happen in the normal course of things. Now if you want to try to cheat the system, as an architectural matter it is generally possible to walk through the Gate G door and then directly access the Acela platforms. I have, however, tried this twice and both times have been halted by a gentleman with a canine companion: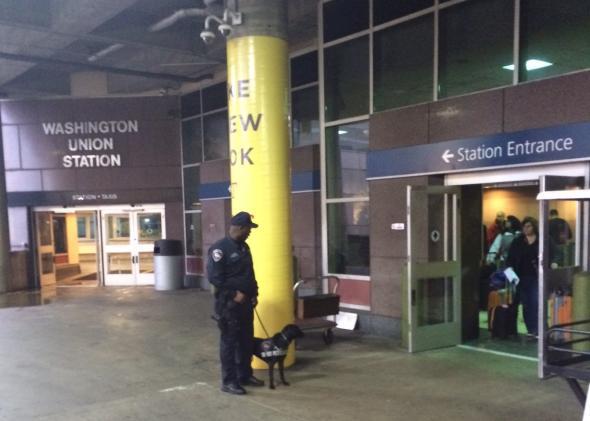 These Amtrak Police types are only following orders, and their orders are that everyone has to go through this kind of parody of airport security before boarding the train. On a public policy level, Amtrak officials have described their eccentric boarding process as flowing from "security requirements" of some sort, although they're unable to articulate exactly who is requiring this. But more to the point, Amtrak does not use this process at other stations. All al-Qaida needs to do to get a bomb on the train is drive 30 miles to BWI Rail Station where terrorists and passengers alike have direct access to the platform just like on any normal train service. Alternatively, a bomb-toting terrorist could blow up a MARC train instead, which would almost certainly kill more people anyway. A great many people are being inconvenienced for no clear reason.
Relatedly, a number of longtime users of the Penn Station boarding hack (including a surprising number of journalists) have scolded me for "revealing" this secret, fearing that it will become too crowded or Amtrak will crack down on it. For starters, in journalism we're not supposed to keep secrets! But more broadly, Amtrak should change its policies! Frequent users of Northeast Corridor rail service are not some tiny disenfranchised minority in the United States. If we speak up, this can get fixed. People board trains every day all around the world—including at train stations in D.C. and New York—without being forced to line up at airplane-style "gates." Amtrak can do better.