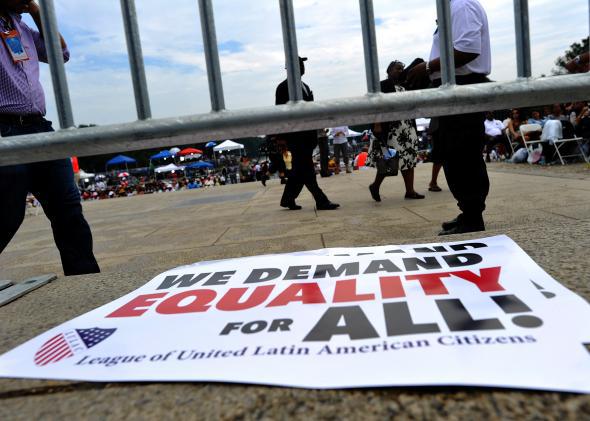 I was generally a fan of Ben White and Maggie Haberman's article on an Elizabeth Warren presidential run as Wall Street's worst nightmare, but I did think this one factoid they dragooned into the piece to some extent underscores a different point:
If anything, Clinton's world appears very aware that income inequality is an issue that matches the prevailing mood of the Democratic base — witness incoming New York City Mayor Bill de Blasio, who was Hillary Clinton's 2000 campaign manager. A Clinton ally, John Podesta, is launching a new think tank aimed at evaluating income inequality; it will be a subsidiary of the larger Center for American Progress, run by longtime Hillary Clinton adviser Neera Tanden.
As it happens, my wife works at the new institution in question, so I have both conflicts of interest and some valuable perspective to offer. If you want to draw a lesson about brass-tacks politics from the launch of the Washington Center for Equitable Growth the lesson should be that there's a fairly strong degree of consensus among Democratic Party actors that burgeoning income inequality is something the political system needs to address and that it would be a mistake to turn the existence of disagreements about certain aspects of bank regulation into a signpost of a deep and fundamental chasm.* At the launch event on Friday, you've got Janet Gornick, Jason Furman, Raj Chetty, Emmanuel Saez, and more. The research advisory board has plenty of "heterodox" people on it and also lots of very mainstream people. What you don't really have at the moment is a particularly solid understanding of what could or should be done, or even what the particular dynamics of inequality are. My wife's particular role is running the grant program, where the idea is to support academic research that's relevant to the question.

Long story short, I don't think you should see this center as a gambit in intraparty disputes (the agenda is too long-term and big-picture for that) but rather as a reflection that floating above personality conflicts and political disputes is a basic agreement that inequality should be the focus of more attention in the future.

Correction, Nov. 13, 2013: This post originally misidentified the Washington Center for Equitable Growth as the Washington Center on Equitable Growth. It also misspelled Emmanuel Saez's first name.

---