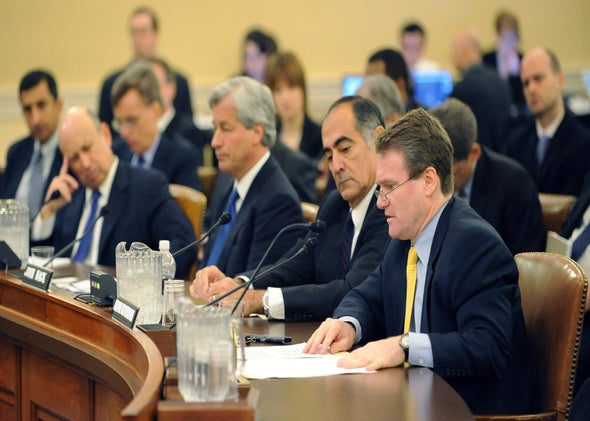 JPMorgan Chase posted a quarterly loss this morning, with profits entirely wiped out by the company's legal costs. But as I wrote last week, the fines the bank is paying are high, but they do nothing to imperil the job of the bank's CEO's job because they remain small relative to the whole scale of the enterprise. Unlike with a regular business, there's just no risk that getting caught breaking the rules is actually going to drive the bank out of business.
Flipping on CNBC this morning, it was clear that the bottom line focused analysts there still haven't lost their faith in Jamie Dimon. They pointed out that if you exclude "one-time" legal costs, the bank actually beat analyst expectations for earnings. It seemed to me that it was a telling phrase. Sure the bank's been hit with billions in fines. And sure it's not shaking up its management team in response. But the costs are still "one-time" costs like if a freak tornado had damaged the headquarters building.
To them the really interesting story this morning just had to do with how talk of tapering (or not) is impacting Wells Fargo's mortgage lending business. This whole business where one of the most important banks in America is found in violation of various rules by a dozen other agencies is no big deal.

---