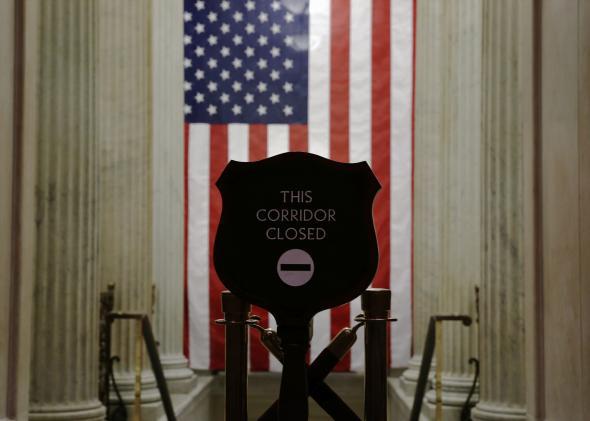 Nothing is for sure, but I think it's pretty clear that Republicans are going to cave in the government shutdown fight. As of 24 hours ago, some House Republicans and zero Senate Democrats were dissenting from their party leadership's strategy. What's more, it's an open secret that the House GOP leadership's strategy isn't even the strategy they initially wanted—it's a strategy they reluctantly adopted under pressure from members of their caucus.

But while it's obvious Democrats would have accepted a "clean" Continuing Resolution to keep the government open yesterday, I think they ought to reject one today.
The reason is the much scarier debt ceiling showdown facing us in a couple of weeks. Congress will be doing us no favors if it gets the government back up and running only to plow into a catastrophe in the middle of the month. An agreement on a Continuing Resolution ought to also increase the debt ceiling—or even better, abolish it altogether—to ensure that the federal government is fully authorized to continue operations. Letting Republicans "back down" on funding the government only to pick a brand new fight with higher stakes over the same issues two weeks later would only deepen the chaos and uncertainty.
Read the rest of Slate's coverage of the government shutdown.
---