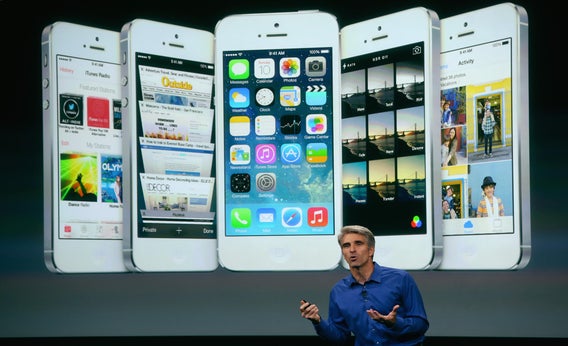 I set my phone to upgrade to iOS 7 overnight, and while the new software looks pretty cool I suppose I had this vague whimsical notion that maybe Apple would seize the opportunity to fix certain basic obvious problems with iOS. For example: Newsstand. What is this for? I love my iPhone and I read tons of stuff on the Internet, but I've never used Newsstand and I feel comfortable saying that I never will.
So why can't I delete it?
Apple has a policy of not letting you delete any of the first party apps that come installed with a brand new phone. It makes a certain amount of sense. Making it impossible to accidentally delete the phone app or the messages app is a nice idiot-proofing measure. A willingness to deploy a certain amount of strategic paternalism in its products in order to eliminate hassles and user error is a big strength of Apple's. But extending this policy to Newsstand is folly. Worse, it's hubris. It's just simply not the case that Newsstand is part of the core smartphone experience. An iPhone with its Messages app deleted is broken. An iPhone with its Newsstand app deleted is a fully functional device. Everyone knows that. If key decision-makers at Apple don't realize that, it would suggest a level of insularity in Cupertino that's just absurd.
More plausibly it's corporate politics. Someone built that app. Someone championed it. Someone negotiated deals with content providers around it. Taking it off the do-not-delete list would make the iPhone better, but it would hurt someone's feelings. Apple's fat and happy enough that it can easily afford to indulge the pretense that Newsstand is a huge success that everyone needs on their phone, and so they do.

---