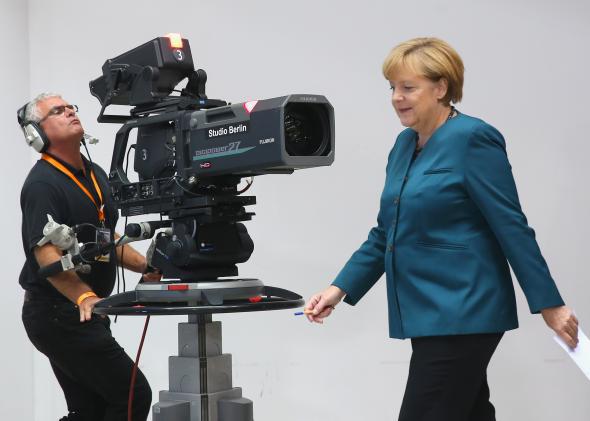 Germany held its election yesterday (see Germany election preview/explainer), and the results are a little bit curious. Incumbent Chancellor Angela Merkel triumphed at the polls, leading her Christian Democratic Union to one of its best results ever and absolutely crushing the opposition Social Democratic Party. And yet, where yesterday Merkel had a working majority in the lower house of parliament, now the combined left-wing opposition has the bulk of the seats. 
The reason is that Merkel's coalition partners, the Free Democratic Party, slipped precipitously in popularity and fell just below the 5 percent threshold needed for representation. The new euroskeptical right-wing party, Alliance for Germany, also came close to 5 percent but fell just short. By contrast on the left side of the aisle, all three parties—the SPD, the Greens, and the Left Party—are over the threshold and represented in parliament. So even though most people voted for one of the three right-wing parties and even though Merkel won a huge result for herself and her party, the CDU is just shy of a majority.
That means coalition time. And it could be a difficult negotiation.  
The main reason is that Merkel is so close to a majority. Her party is about two seats short of what it would have needed to govern alone. That means she's not particularly going to be in the mood to make big concessions to the SPD to put them in a grand coalition. At the same time, there's enormous skepticism inside the SPD about the merits of a grand coalition. And even though the CDU has never governed in coalition with the Greens, the electoral math for a black-green coalition works fine, and CDU leaders will probably want to explore it a little if only to increase their leverage. The SPD and the Greens also combine to hold a majority in Germany's senate, which isn't as powerful a body in the German system as in the United States but still gives them quite a bit of influence. Long story short, Merkel dominates German politics, but her practical ability to make any dramatic shifts in policy is rather limited. 
---