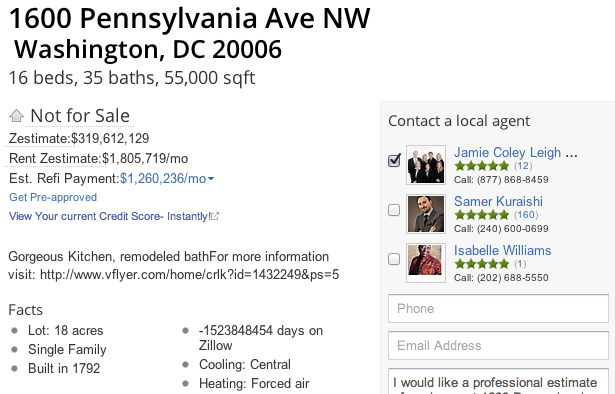 Zillow has published one of its Zestimates, asserting that the 16-bedroom, 35-bathroom single-family home located at 1600 Pennsylvania Ave. would be worth about $319 million on the open market.
This turns out to be rather substantially at odds with the Washington, D.C., Office of Tax and Revenue's take on the matter. Assessor Folu Addy's take on the property is that it's a commercial building worth almost $1 billion. The difference seems to largely come down a different assessment of the land involved. Washington views parcel 0187S 0800 as a quite expansive area whose land alone is worth $963,825,340. The physical structures are valued at a mere $31,174,660.
Now of course the White House is not being put up for sale. It is true, however, that exactly as the Washington tax office shows, we're talking about a severely underdeveloped parcel of land. The president's residency is plenty large, but the president's office building in the West Wing is remarkably small. You would think the executive office of the president would be housed in a large office tower, comparable to the headquarters of any other major organization. But in fact it's cramped quarters with the bulk of the personnel in the adjacent Eisenhower Executive Office Building and a lot of activity happening in poorly lit basements.

---