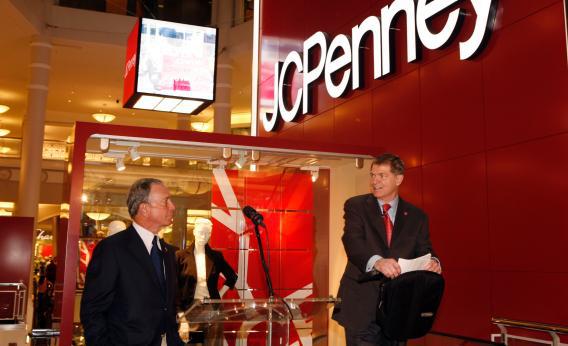 J.C. Penney isn't the most fashionable apparel-maker in the world, but it's at the center of a fascinating corporate governance battle. Something very unusual happened there this week—the company's largest shareholder, hedge fund manager Bill Ackman, got himself kicked off the board of directors despite his fund owning over 17 percent of the company.
And that happened because Ackman did something very unusual—started complaining publicly about the company's CEO and his fellow board members.
At issue is the fraught legacy of the Ron Johnson Era when Ackman brought in the legendary head of Apple's retail efforts to save the company and reinvent the department store. What Johnson created was a total disaster, a new store concept that alienated J.C. Penney's core customers without bringing in any new ones. And then the board lost its nerve. You can't execute a pivot like that unless you're willing to bear some transition risks. But as soon as the extent of the problems with Johnsonism because clear, the board fired him and brought back a former CEO. The return of the old CEO and the old-time hokey sales seemed to bring some of the old customers back.
But Ackman's view was that it wasn't as if the Johnson Era had begun for no reason. The midmarket department store is an industry segment in crisis. Between online retail, the voraciousness of Walmart, the emergence of national dollar chains, and high-end brands' continued efforts to make lower-cost lines to sell to the mass public J.C. Penney is just in a very problematic situation. Ackman didn't want to get too comfortable with the old CEO and strategic drift. So he started complaining. But instead of getting change he got the boot. And now because of insider trading laws, he can't even sell his shares in the company until he's off the board long enough to not be privy to forthcoming earnings data.
Meanwhile, Ackman's other big gambit—massively shorting Herbalife and trying to prove the company is an illegal pyramid scheme—also seems to be failing.

---