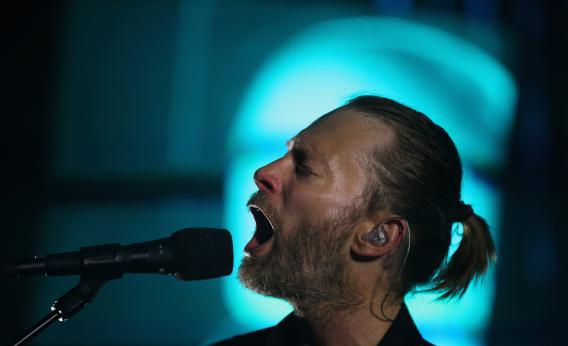 English rocker and Radiohead frontman Thom Yorke fancies himself a champion of the meek, opting to yank his music from Spotify in defense of emerging artists.
The albums "AMOK," a collaborative project with Atoms for Peace, and Yorke's solo album "The Eraser" disappeared from the streaming service over the weekend.
Yorke and his producer Nigel Godrich, whose album credits include Radiohead and Paul McCartney, took to Twitter to explain, calling the decision a "small meaningless rebellion."
Yorke broke it down for musicians:
Godrich described the withdrawal as a call for change:
Spotify responded to the backlash in a statement on Monday, saying that it's already in the early stages of a project that will benefit new artists:
"Spotify's goal is to grow a service which people love, ultimately want to pay for, and which will provide the financial support to the music industry necessary to invest in new talent and music. We want to help artists connect with their fans, find new audiences, grow their fan base and make a living from the music we all love. 
"We've already paid US$500m to rights holders so far and by the end of 2013 this number will reach US$1bn. Much of this money is being invested in nurturing new talent and producing great new music."
Yorke joins a rapidly growing list of artists pissed off at streaming services, including Led Zeppelin and smaller but no less vocal combatants Cracker, and Camper Van Beethoven.
SEE ALSO: My Song Got Played On Pandora 1 Million Times and All I Got Was $16.89, Less Than What I Make From a Single T-Shirt Sale!
---