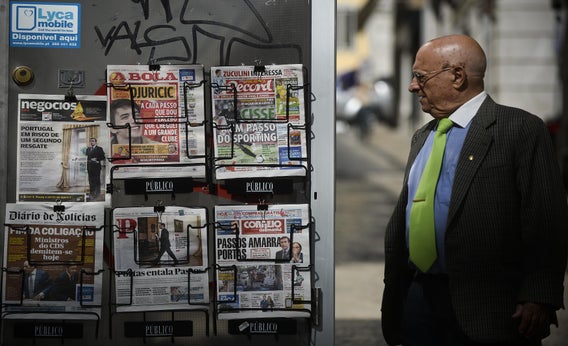 This has been a little buried by more dramatic events elsewhere, but Portugese government bond yields are spiking today in a sign of the exciting return of the eurozone debt crisis. The specific issue is that Portugal's main center-right party is presiding over a tough austerity program and a terrible economy. So naturally they're unpopular. That's been leading the ministers of their junior coalition partner, the CDS-PP, to start resigning. If the CDS-PP leaves the government there's no majority and there'll need to be new elections. And new elections bring new political uncertainty—including possibly prolonged coalition negotiations and efforts to renegotiate the terms under which Portugal is getting assistance from the Troika (i.e., the European Commission, the European Central Bank, and the International Monetary Fund). Consequently, the bond yields are spiking.
Nobody should exaggerate the significance of this particular hiccup. But it's a reminder that the eurozone debt crisis really and truly hasn't gone anywhere. Southern Europe is experiencing depression-level conditions, and growth is quite weak even in "core" Eurozone countries such as Germany and the Netherlands. And everything is being held together, financially, by measures with dubious levels of political legitimacy. The Troika is pushing the boundaries of its legal authority, while at the same time governments across the continent are being pushed to the boundaries of what's acceptable to the voters.
The powers that be have really proven a lot of skeptics wrong after the past two years in terms of basically holding this rickety structure up. But the underlying conditions are so weak that every little bump in the road raises a lot of thorny problems.

---