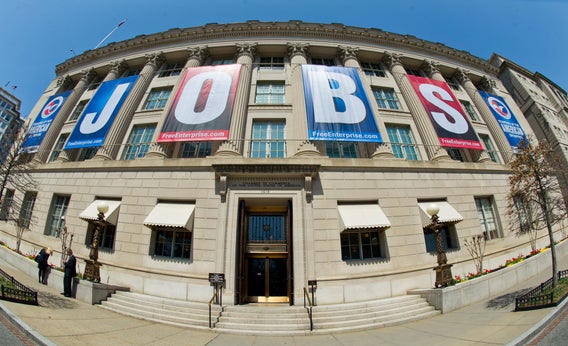 If you thought that recent good news about the federal budget deficit would calm elite clamoring for cuts to Social Security and Medicare, the US Chamber of Commerce has other news for you. Today Bruce Josten, their executive VP for government affairs, delivered a speech and launched a new initiative around the urgent need to cut these programs.
The basic issue, as the Chamber sees it, is that the improving deficit picture and waning political interest in a grand bargain requires them to double-down on this subject.
Even though I disagree with the Chamber I'm heartened in some ways to see them doing this since they're confirming what I've said about why new budget facts won't change the debate and why the powers that be will always hate Social Security. A perception of concern about budget deficits is a nice entry point into a politics that's built around cutting federal spending on retirement programs, but its people loafing around on the dole and not anything to do with the budget as such that drives the conflict. Simply put, from a business viewpoint there's nothing worse a government can do than pay people to not work. And yet that's the whole point of federal retirement programs! Their existence depresses savings and labor force participation. It just happens to be a functional and popular way of ensuring that elderly people get to have nice lives. I'd say that's a worthy aim. The leaders of the American business community disagree. But it'd be great to have that debate out there in the open. There's no unique right answer to this question. Paul Krugman says "France has made it much too attractive to retire at 55" even while strongly opposing efforts to make it less attractive to retire at 65 in the USA. I'd say the fact that labor force participation among older people is increasing even during a terrible labor market is evidence that we don't need a change in this regard. But I do think it's a good debate to have, and it's an especially good debate to have outside the context of a farcical debate over an alleged short-term debt crisis.

---