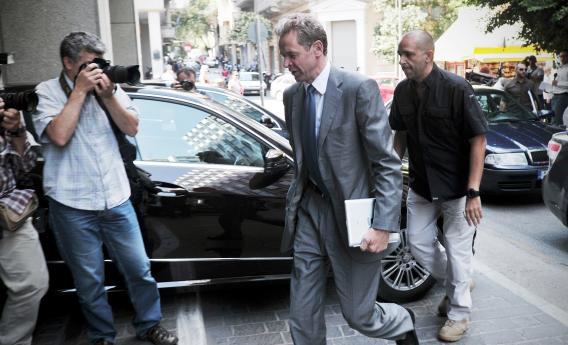 Let me recommend Daniel Davies' defense of the IMF on Greece in the wake of the IMF's after action report on the situation.
But let me also add something that he didn't say but that a couple of MEPs from "peripheral" countries mentioned to me this week—relative to the other actors in the eurozone drama, the IMF has consistently been a voice for reason. A lot of casual observers look at Troika conduct and read backward into bad impressions of the IMF that derive from its mishandling of the East Asian currency crises of the late 1990s. But this is backward. The IMF, as an institution, is very acutely aware of the problems with the way that situation was managed and a voice for dealing more generously with the European situation. The sticking point in the context of the PIGS was the other two actors in the Troika—the European Union and the European Central Bank. The politics of the EU are complicated and fraught in all kinds of ways that led the Commission and the ECB to push for more austere solutions than the IMF would have favored all on its own.

The larger question of to what extent that political context was really binding on EU institutions is interesting and a bit inscrutable (my view is that the Germans have in part been misidentifying their own self-interest in this saga) but clearly the views of the ECB, Angela Merkel, and the European Commission were binding on the IMF. They had to agree to something the rest of the team would agree to, and that simply limited what could be done across the board. But insofar as the issues have been up for discussion, the IMF has been a force for good.

---