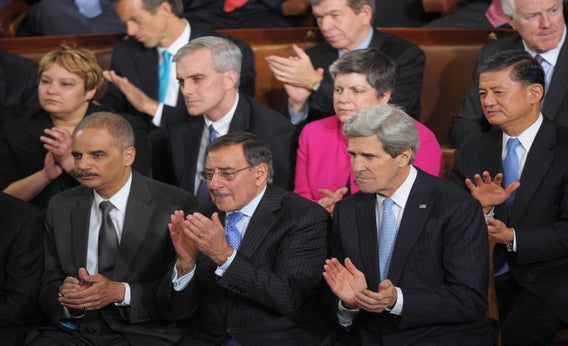 Darren Goode offers a rundown of GOP options for blocking Obama's new climate change initiatives and concludes that they really have no options. So what they're going to do instead of mounting a substantive response is "use Obama's climate agenda to hammer Democratic incumbents and candidates in red states in 2014—and try to get them to cast tough votes" with things like "message votes seeking to cut off funding for EPA to work on the power plant rules."
This is emblematic of the dysfunction that's gripped American political culture. The GOP wants a total victory against efforts to curb CO2 emissions, but they can't obtain a total victory, so their fallback option is … political posturing.
A much better idea would be to negotiate and find a solution that environmentalists and conservatives alike can prefer to EPA regulation—carbon pricing, with some of the revenue used to reduce other taxes and some of the revenue for clean energy investments. It'd be an easy win-win for everyone relative to the course we're currently on. But it would require Republicans to come to the table and bargain over policy outcomes instead of positioning themselves for talking points. And ever since 2009 they've been stuck on this one-note theory of governance that's about obstructing everything that can be obstructed (Ted Cruz announced today he'll block literally all State Department nominees) and then whining about everything else. The notion of tactical flexibility where sometimes you cut a deal in order to get a better outcome rather than just saying "the worse, the better" for the purpose of political messaging is totally out the window. It's frustrating and depressing.

---