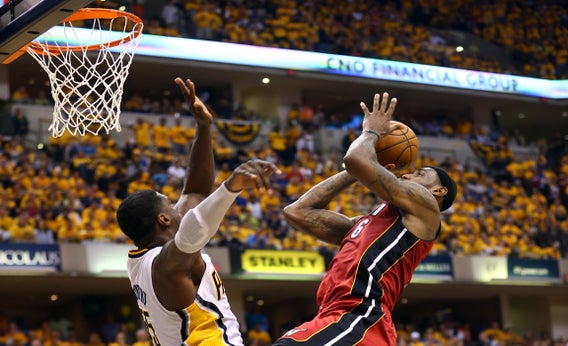 I'll be watching Game 7 of the Eastern Conference Finals tonight because I'm expecting a great basketball game. Executives at ABC should be watching because they have a lot of money on the line. Ratings for a Spurs–Heat final are likely to be dramatically better than those for a Spurs–Pacers final.
How much better?
Well, start with the fact that San Antonio coming out of the West is just bad for business. ABC started airing the NBA Finals in 2002. Since that time, the San Antonio Spurs have made three NBA Finals appearances—the lowest-rated ABC Finals in 2007, the second-lowest-rated ABC Finals in 2003, and the third-lowest-rated ABC Finals in 2005. By contrast, ABC's three best NBA Finals have all featured the Los Angeles Lakers. So the decline of the Lakers and the resurgence of the Spurs looks like an economic disaster for the network. But the three highest-rated non-Lakers finals have all featured—you guessed it—the Miami Heat.
Here's a table:

2004 — Pistons vs. Lakers
2010 — Celtics vs. Lakers
2002 — Nets vs. Lakers
2011 — Heat vs. Mavericks
2012 — Heat vs. Thunder
2008 — Celtics vs. Lakers
2006 — Heat vs. Mavericks
2009 — Magic vs. Lakers
2005 — Pistons vs. Spurs
2003 — Nets vs. Spurs
2007 — Cavaliers vs. Spurs
The relative success of last year's Heat/Thunder Finals and the huge success of the 2004 Pistons/Lakers Finals shows that one small-market team isn't an insuperable barrier to success. Even though Tony Parker and Tim Duncan aren't media stars on a par with Kevin Durant, San Antonio is a substantially larger media market than Oklahoma City (it's even much larger in 2013 than it was in 2003), so if the Spurs pair up with Miami, ABC can expect at least middling ratings. But if Indiana wins tonight, the closest precedent would be San Antonio's economically disastrous matchup against the small Midwestern market of Cleveland. Except the difference is that 2007 Finals at least marked the NBA Finals debut of LeBron James, one of the league's highest-profile players. A Spurs–Pacers matchup could be an epic business disaster.
The other consideration besides market size and player celebrity, however, is how competitve the series is. The 2005 Spurs–Pistons matchup was poorly rated overall and has gone down in NBA lore as the ultimate matchup of boring small-market teams. But in basketball terms it was actually a very exciting series, and Game 7 of that series was the fifth-highest-rated single game in NBA on ABC history. The fact that it went to seven is a key reason that Pistons–Spurs was so much higher rated than San Antonio's four-game sweep of the Cavaliers. Watching the conference finals, it seems to me that Indiana matches up well against Miami, but we just saw the Spurs dispatch a defense-first team anchored by a dominant center in four games, so a Spurs–Heat series is likely to be more competitive as well as feature a bigger city.
---