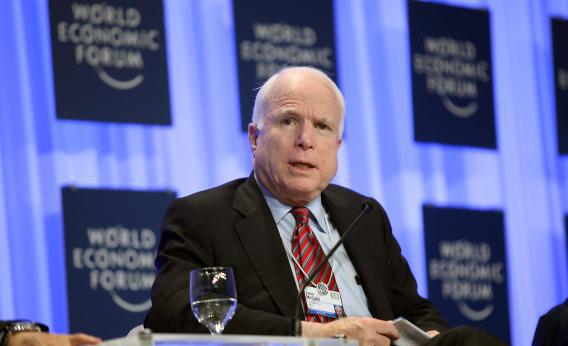 Because political pundits are very interested in political punditry, there's been a lot of political punditry written lately about conservative reformers and blah blah blah. But if you talk to folks on Capitol Hill about where the action might be in forging legislative progress on key issues, it tends to revolve around a very different factional concern—military spending.
Specifically: John McCain, Lindsey Graham, Kelly Ayotte, and perhaps a few other Senate Republicans seem increasingly concerned that Democrats aren't bluffing on military sequestration and that the only way to avoid a reduction in America's warmaking power would be to strike some kind of deal with Democrats that includes higher tax revenue. That was the Democrats' original theory of how sequestration was supposed to work, and it highlights a very genuine divide in Republican Party politics. Militaristic nationalism was the key theme of the most successful GOP presidential campaign in a quarter century, but the George W. Bush administration always acted to ensure that it didn't come into any conflict with tax cutting. The Obama administration, by contrast, has succeeded in creating a conflict and it's putting at least some pressure on the GOP caucus.
The view that the American military is dangerously underfunded is not popular among America's smartest right-of-center pundits (presumably because it's laughably wrong), but it has much more purchase in Congress than other criticisms of where John Boehner and Mitch McConnell have taken the GOP. If the logjam breaks, it'll be militarism not reformism that breaks it.

---