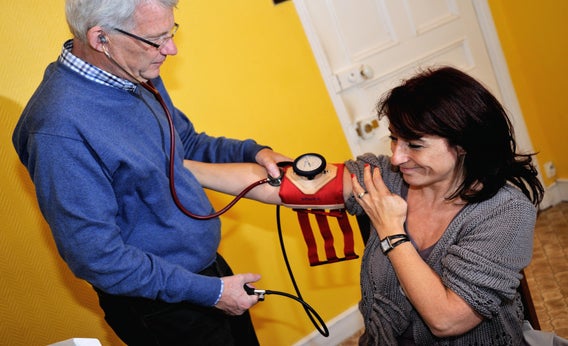 As we've explored several times here on Moneybox, one striking aspect of the American health care market is that prices are much higher here than in other countries. But prices in the United States are also incredibly variable. By law, Medicare pays lower prices to health care providers than do private plans, and Medicare can get away with this because the Medicare client base is so large that few providers can get away with giving up business it provides.
All in all, this leads to a rough linkage both domestically and internationally between government-financed health care and low health care prices, but there are other ways to get similar results. Reed Abelson writes for the New York Times that "employers are experimenting with a new way to pay for health care, telling workers that their company health plan will pay only a fixed amount for a given test or procedure, like a CT scan or knee replacement." Not coincidentally, though, this is actually being pioneered in California by a quasi-governmental entity that provides insurance for public sector workers. That's a "private" plan in some sense, but it has the crucial aspect of a government-run health plan—it's really big. So what they've done is looked at a state where charges for hip or knee replacements vary from $15,000 to $100,000 and said they'll pay up to $30,000 but not a penny more. That puts pressure on the high-charging hospitals to bring prices down.

This kind of initiative is going to be re-enforced by the Obama administration's move to force public disclosure of what hospitals charge, which illustrates how these prices tend to fluctuate enormously from provider to provider with no evident rhyme or reason.

These kinds of moves help explain why health care construction spending has flatlined after years of steady increase. Thanks to a mix of initiatives, some but not all of them linked to the Affordable Care Act, it's increasingly clear that public and private actors aren't going to put up with windfall health care sector profits for long. And absent those windfall profits, it doesn't make a ton of sense to keep accelerating investment in the health care sector's capacity to deliver services. And absent that accelerated investment, the spending (i.e., "cost") curve almost necessarily has to bend because there's no place for all that money to be spent.

---