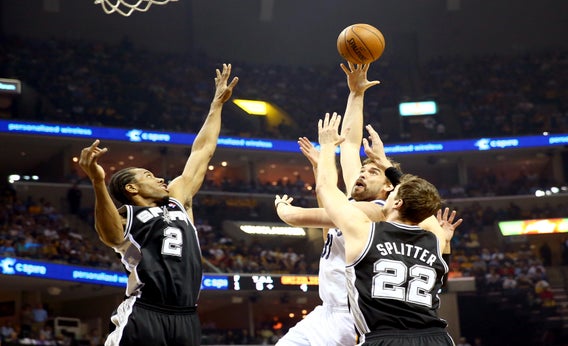 The San Antonio Spurs are far and away the best-managed franchise in the NBA, so you can learn a lot about business practice from focusing on what they do. Conversely, people who fail to appreciate the role of general business considerations here get things wrong. Henry Abbott, for example, attributes their success at finding valuable players with non-lottery picks almost entirely to Gregg Popovich's coaching strategy. But while player development is important, building a team really is mostly about finding the right guys. Sometimes you get the No. 1 overall pick and snag Tim Duncan, but to succeed over a 15-year span you need to do better than that.
Speaking of Tiago Splitter, for example, Abbott writes "Splitter was once the Spurs' [Jonas] Valanciunas, if you will—only the kind you draft 28th overall instead of fifth."
Except that's misleading. When the Spurs drafted Splitter at position 28 he was already a known quantity in NBA circles, and few people doubted he'd be a successful player. He considered entering the 2006 NBA draft, but the problem was that no teams wanted to take him with a high pick. And the issue wasn't that they doubted his talents; it was that he was still under contract to play for a Spanish team. By the 2007 draft he was 22 and thus automatically eligible to be drafted, but again nobody wanted to take him with a high pick because it seemed he'd be unavailable to play NBA basketball for years. So the Spurs took the 28th overall pick and used it to make a long-term investment. They were confident that sooner or later Splitter would want to come to the NBA to test his skills against the best players in the world. And, indeed, he did. But not until the fall of 2010.
When Splitter finally joined the team, the Spurs had a guy who'd been MVP and Finals MVP of the Spanish league, an all-Euroleague first team player, and a multi-time champion on various levels of basketball. And from Day 1 in the NBA he was an efficient scorer and solid rebounder, he just took a year or two to master the Spurs' defensive rotations.
But his success wouldn't have come as a surprise to any of the scouts working on the 2006 and 2007 drafts, all of whom thought he was a good player. The reason he fell to the Spurs is that most general managers feel they have to manage for the short-term. If the team does badly next year you might get fired. So he can't draft a guy who'll be completely useless for the next three years in the hopes that it'll get you high-quality cheap talent five or six years down the road. GMs implement drafting strategies that are the equivalent of a CEO who focuses on quarterly earnings estimates rather than on developing the next generation of products. A good player on a rookie contract is an extremely valuable commodity in a sport with a salary cap, and displaying a modicum of patience to get one should be a no-brainer. But few teams have the discipline to do it.

---