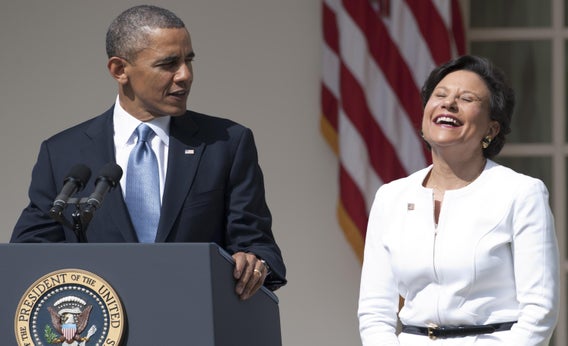 The United States of America has suffered without a Secretary of Commerce since last June, when John Bryson resigned in the wake of some unfortunate driving incidents in California. Today, word comes that his long-rumored successor Penny Pritzker will get the job.
As a longtime student of commerce secretaries, Pritzker reflects an important historic role of the Commerce slot that Obama has not previously availed himself of—a way for the president to bring a financial supporter into the corridors of power in Washington. Pritzker herself is one of the heirs to the Pritzker family fortune that originally derives from Hyatt hotels. She's taken an active role in business affairs, as well as a lot of philanthropic and civi activities. She donated to a lot of political campaigns over the years, including presidential candidates from both parties, but was particularly active as an early supporter of Obama's campaign. Beyond being rich, her early and active support of Obama For America was important to the campaign because she's a Jewish woman and the dynamics of the Obama-Clinton primary were such that elite women and Jewish validators were of particular importance.
It seemed early on during the Obama transition that she was a likely choice for Commerce Secretary, but wound up taking herself out of consideration. It's not entirely clear why that was, but the Pritzker family had been involved with a failed bank early in the aughts so maybe the optics were bad around the financial crisis—that and unions don't like Pritzker since her family's hotels have been involved in a lot of labor disputes. Obama wound up going in a somewhat unusual direction with Commerce, tapping former governor Gary Locke to add Asian American representation to his Cabinet, and then picking Bryson as a sign of outreach to moderate Republicans in the business community. Pritzker is much closer to a traditional Commerce pick—a business person who Obama has a personal relationship with—and as usual I think we can expect few if any exciting policy initiatives to emanate from the Commerce Department. It will be interesting to see what pretext, if any, Senate Republicans gin up as a reason to delay her confirmation.

Correction, May 2, 2013: This post originally misspelled Penny Pritzker's last name.

---