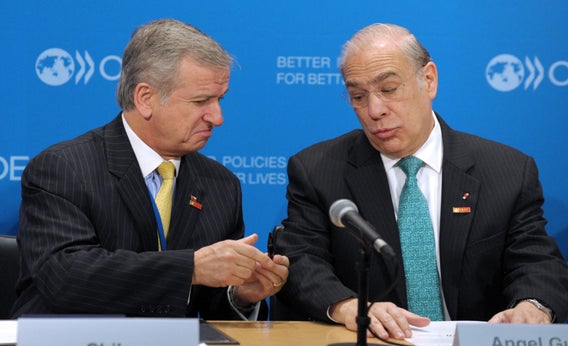 The OECD is out with its latest global growth forecasts, and the outlook is bleaker than during the last round. They now say they expect 3.1 percent this year and 4 percent next year rather than 3.4 percent this year and 4.2 percent next year.
Something that I think is striking about these kind of forecasting exercises is that since 2007 or 2008 or so, I feel like they've always had this quality. In Year N we hear that growth in Year N+1 will be weak, but things will bounce back by Year N+2, and then six months down the road the forecasts get revised downward. Which is to say that modelers keep expecting some kind of automatic bounceback that doesn't actually happen.
One reason for that pattern could be systematic overestimation of the potential growth rate of the economies in question, but if that were the case negative growth surprises would be matched with inflation surprises. Instead, we keep getting negative growth surprises in the context of lowish and stable inflation. Which is to say that overall demand is "surprising" on the downside. But what's so surprising about it? Only in Japan, and only for the past six months, do policymakers even really have a higher level of demand as a stated policy objective. Yet in the end the OECD rather lamely concludes that "wider product market reforms—particularly in the retail trade and professional services sectors—offer the best potential for creating jobs." Such reforms might be a good idea (certainly I'm a fan of scope of practice reforms for the United States), but as a headline policy prescription they seem designed for the world of surprisingly low real growth and surprisingly high inflation. In a world of surprisingly low real growth and surprisingly low inflation, as a first cut you need more demand.

---