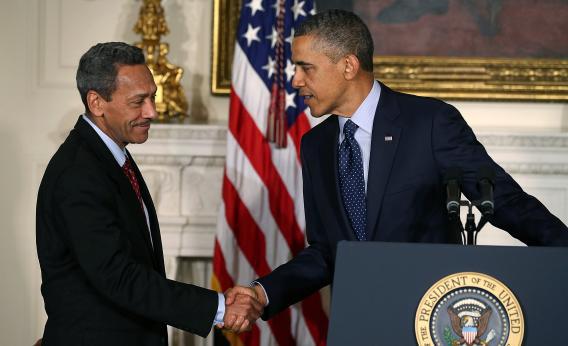 Time for a bit of a mea culpa as, scanning the news, I see a lot more progressive enthusiasm for Mel Watt at the FHFA than I thought we'd see. Greg Sargent has your enthusiastic statements from Sen. Elizabeth Warren and Rep. Keith Ellison. Combine those two with Barack Obama and you've basically got the left flank of the party sewn up. On the right flank of the Democratic Party, Erskine Bowles is also a big Watt fan (not coincidentally, they're both from North Carolina). So notwithstanding Watt's close ties to the financial services industry (Charlotte is the number two bank town in America after New York), this is shaping up to be a pretty straightforward partisan fight.
A big part of the issue here is, again, that the FHFA has a somewhat unusual structure. Absent the confirmation of a director, the agency will continue to be led—as it has been for years—by Edward DeMarco, who's serving as acting director. Republicans like DeMarco because he's critical of Fannie Mae and Freddie Mac, but banks don't like him because he's suing them, but progressives also don't like him because he's standing in the way of some important refinancing initiatives. So there's a fairly broad interest in finding a replacement, but also a decent chance that Republicans would block any pick simply to keep DeMarco around.

UPDATE: And now Sen. Richard Burr (R-NC) is on the Watt bandwagon.

---