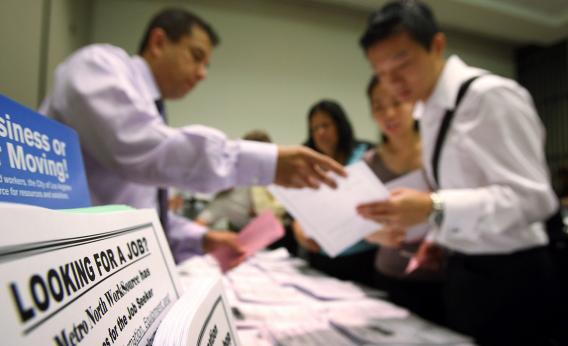 The Bureau of Labor Statistics announced this morning that the U.S. economy added a strong 165,000 jobs in April. But there's even better news: The most important news in a jobs report is the final revision to the jobs estimate from two months ago, and the BLS now believes 332,000 jobs were created in February. The initially-estimated-as-dismal March report was also revised upward to a 138,000 jobs. Those are the kind of months we need, month after month, to make a timely reconvergence to full employment.

To me, this mostly reinforces what I said about the Q1 GDP report, namely that people shouldn't pay so much attention to initial releases. None of the analysis you read explaining February's extremely weak jobs report was correct because, as it turned out, there wasn't actually weak jobs growth. It was a totally banal month.
So a technical note on April instead. This year, April is a "short" four-week month, so compared with March and May you would expect the April number to undershoot the long-term trend, for whatever that's worth.
The big story of the recovery that continues to be clear and not subject to small revisions is the rebalancing of the American economy out of public-sector employment and into private-sector production. There are 89,000 fewer people employed by the government than there were one year ago, and almost 2.2 million more people employed in the private sector. Given sequestration, I would expect that trend to continue. Federal agencies will cope with furloughs rather than layoffs, but agencies will be sluggish replacing people who quit or retire in order to conserve budgetary strength. At the state and local level, even as tax revenue rebounds, federal funding streams are collapsing and pension and health costs continue to mean that you get fewer employees per dollar than you used to.

---