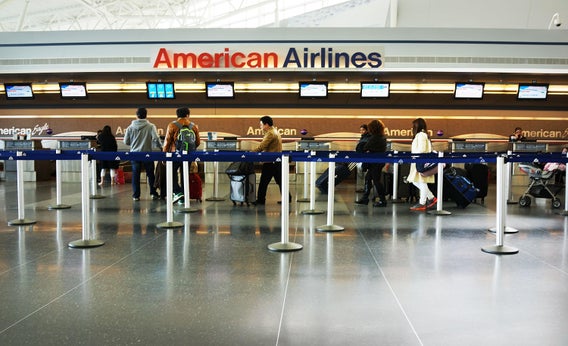 American Airlines is looking to speed boarding times on its airplanes by offering advanced boarding to people who don't want to stick roller bags in the overhead compartment.
The basic idea is that folks with just an underseat laptop bag or purse can shuffle in quickly and sit down, and then everyone else will get on and start wrangling bags into the compartments. That way, in theory, you won't have as many people stuck waiting in the aisle while others are fussing with the compartment doors.
It makes sense, but it underscores the extent to which airlines are tying themselves in knots with different priorities. The industry has been working to fly fewer planes so the remaining planes will be fuller. It's also been raising checked-bag fees to try to reduce plane weights and ground crew costs. So now you have more carry-on bags per plane. At the same time, a boarding procedure that was once designed to fill seats with optimal speed has become a welter of frequent flier perks. The first-class people board first, of course, but there are also multiple tiers of elite travelers and even holders of certain co-branded credit cards getting early boarding. The new problem of slower boarding seems like one of these squeezing-a-balloon situations, where now problems are popping up on the other end. I'm a known air travel apologist, and I think the dilemma American is working with here mostly underscores that it's a really difficult business. But I'm skeptical of this initiative. It seems to me that managers need to step back, take a deep breath, and decide what their overall objective with the boarding scheme is. Do they want it to be as efficient as possible, or do they want to degrade average efficiency in order to optimally serve their high-volume elite customers?
---