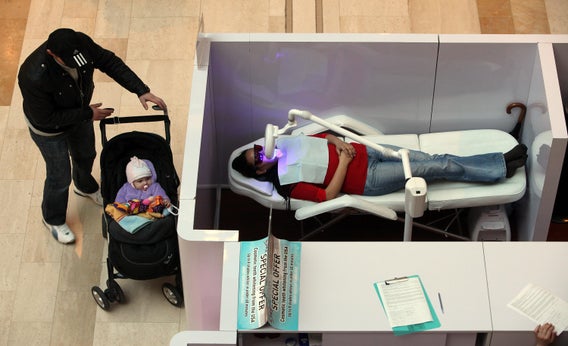 Several readers have sent me this good New York Times story about litigation in Alabama over whether dentists should have a monopoly over tooth-whitening services. The correct answer is no, there is no sound public safety reason for preventing specialist tooth-whiteners from doing this on their own.
What I think it's important for people to realize, though, are the economic stakes which are fourfold. One is that more competition in the tooth-whitening business will mean more affordable treatment for middle-class customers and, in a small way, higher real wages. Another is that if tooth-whiteners don't need to hand over a share of their incomes to dentists, their own take home pay increases and people have a new ladder of opportunity. A third is that as brick-and-mortar retail continues to suffer at the hands of Amazon, both owners of commercial real estate and people who work in the building trades have a strong interest in seeing retail space repurposed for these kinds of inherently nonvirtual services.
But last and by no means least, real dental care is very important. To the extent that dentists are unable to make a living through pure rent-seeking, they need to practice dentistry to make a living. Thus denying dentists a monopoly over tooth-whitening in effect increases the supply of higher-value dental services, and can thus make a critical element of health care more broadly affordable.

---