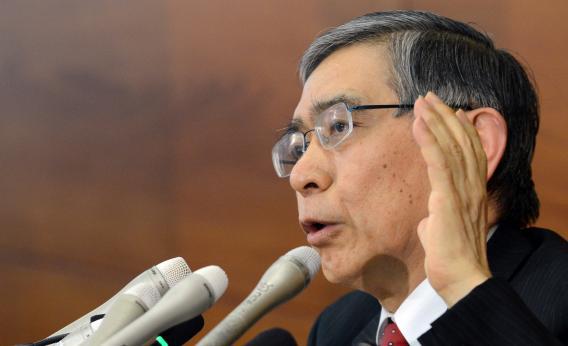 Haruhiko Kuroda is kicking off his term running the Bank of Japan today, announcing plans to double the Japanese monetary base in order to hit Shinzo Abe's two percent inflation target. Even more interesting is what he said after the official announcement, arguing that "we can't escape deflation with the incremental approach that's been taken now" so "we need to use every means available."
This is the kind of tough talk that proponents of expectations-based monetary policy—among which I'd certainly count myself—have been calling for from central banks around the world. I know we've been accused of putting forward unfalsifiable claims, but I don't think that's right. Here you have Kuroda making firm, unconditional commitments. Not just a dramatic increase in the monetary base, but an increase in the monetary base whose purpose is to be dramatic paired not with an assurance that this is an adequate measure but with an assurance that "every means available" will be used to achieve his goal. If these events don't cause you to make upward revisions to your forward-looking estimates of the Japanese price level, you're nuts.
Now the question for Japan is how much extra real output, if any, will inflationary policies generate.
---