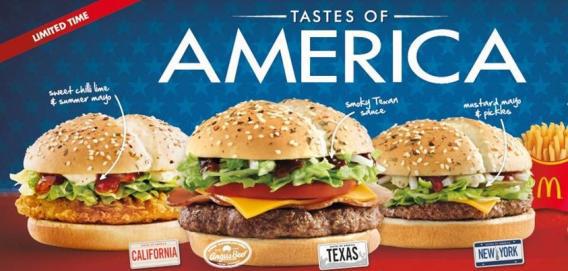 Nothing quite beats the thrill of seeing your own culture reflected back at you in a funhouse mirror, so I just can't get enough of McDonalds' new "Tastes of America" promotion that's running in Australia.

As they explain, "America is the land of the free and the home of the tasty" so this is a promotion folks Down Under won't want to miss. Your roster of fake American food starts with the New York Classic burger, featuring a not-even-remotely classic New York taste of a cheeseburger with "bold mustard mayo" and a bun featuring seseme seeds, chili flakes, and chives. There's also the California chicken sandwich, consisting of a fried chicken patty with "delicious sweet chili 'n lime sauce" and the Smoky Texan which has "a tasty bacon rasher" plus "smoky Texan sauce". They've also got Chili Cheese Pops—chopped jalapeno peppers mixed with cheese and then deep fried. But the best thing on the menu is surely the non-place-specific Roadhouse Brekkie Roll, which looks to be basically an Egg McMuffin with grilled onions, double bacon, and "smoky BBQ sauce". That can't lose.
There's also some kind of Big American Menu currently being promoted in Japan that appears to involve a burger with a hash brown on it.

And yes I'm aware that Australians find Outback Steakhouse to be preposterous.

---