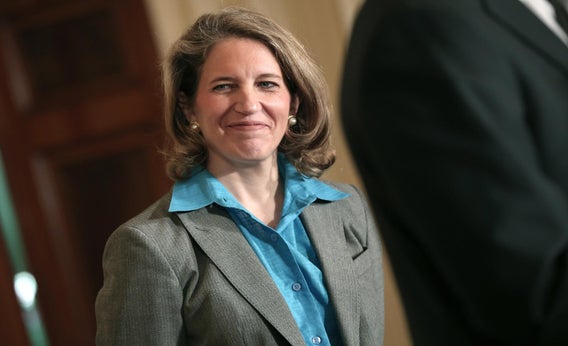 The job of Office of Management and Budget director has been vacant for so long that longtime acting director Jeff Zients (Senate-confirmed as deputy director) had a deputy (Heather Higginbottom) confirmed by the Senate and then lost her to the State Department once John Kerry took over there. But now the White House has put forward a name to run OMB on a permanent basis: Sylvia Mathews Burwell.
Most news accounts are leading with the fact that she currently runs the Wal-Mart Foundation, but the relevant thing you need to know about her biography is that she worked extensively in the Clinton administration. The Obama team hasn't been super eager to bring outsiders into high-level economic policy discussions, and when they finally did it, they turned to someone who's very much cut from the same cloth as the people already on the inside. She worked on the Clinton-Gore presidential campaign in 1992, she became staff director for the National Economic Council under Robert Rubin, she followed Rubin to Treasury where she was his chief of staff before working as as deputy chief of staff under Erskine Bowles, and then she was deputy director of OMB under Jack Lew. In other words, while she's not an Obamaland insider, she did work extensively alongside Lew and Gene Sperling, so she won't be an unfamiliar face to the rest of the economic team. By the same token, her ideological reputation is very similar to the Lew/Sperling mold—not table-thumping populist, but a liberal who believes strongly in trying to secure funding for programs that help poor people.
In the nonprofit world she worked for a long time at the Gates Foundation at a high level, but she wasn't chosen for overall command when Patty Stonesifer stepped down in 2008. Instead she went to work for the Wal-Mart Foundation.
The Wal-Mart Foundation, to be clear, is not the same as the more ideological Walton Family Foundation. On the other hand, as you'd expect from a corporate charity, it's not unrelated to Wal-Mart's larger public relations efforts, and Wal-Mart is very much a company that tends to get embroiled in political controversy. Still, friendliness to the Wal-Mart worldview would again not be a new thing for the Obama administration. Jason Furman, deputy at the National Economic Council, did a long dialogue with Barbara Ehrenreich about the virtues of Wal-Mart for Slate some years back.

---