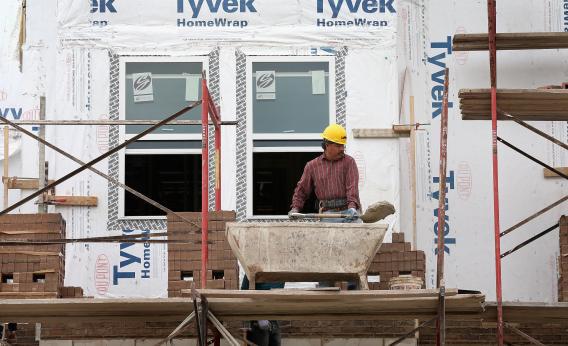 Really bright day for American economic statistics as the BLS' latest Employment Situation Report says the economy added 236,000 jobs in February. December was revised up from +196,000 to +219,000 but January was revised down from +157,000 to +119,000. If you arbitrarily average those numbers you get job growth of 191,000 net new employees per month which isn't crazy boom times or anything, but is definitely the kind of pace that brings the unemployment rate down.
Now the standard monthly disclaimers. The initial report is fuzzy and subject to revision. The revised numbers from previous months are much more accurate. So the revisions about the past are much more important than the "news" about the month we just had. By the same token, though peering into the sub-sectors is certainly interesting and can give you some information the deeper you drill down the more likely you are to be misled by statistical noise.
Meanwhile, in my opinion the story of the recovery continues to be the "rebalancing" of the American economy toward more people working in the private sector and fewer people working for the government. This months 236,000 new jobs turns out to have included 246,000 new private sector jobs and a loss of 10,000 public sector jobs. Most months the overall numbers have been worse than that, but the general pattern is the same. You hear about this some from liberals who wish the federal government were doing more to bolster state and local governments, but I wish we'd hear about it more from conservatives. This is, presumably, the outcome they want. Are we laying the foundation for supercharged growth in years to come through this rebalancing?

The only really noteworthy bit of sectoral analysis is that we had a lot (48,000) of new construction jobs mostly labaled "specialty trade contractor" (31,700) gigs rather than banal "construction of buildings" (8,500) positions. Some industry people have suggested to me over the past few months that reflects a change in the mix of the housing stock to include more multifamily structure and fewer single family homes, with the labor mix of multifamily being more tilted toward the specialty contractors.

---