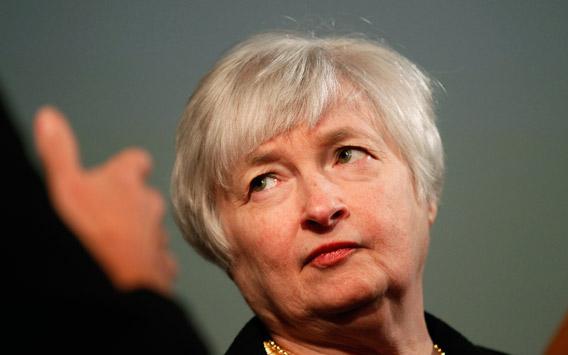 Janet Yellen is both vice chair of the Federal Reserve and widely considered to be the most likely successor to Ben Bernanke, so when she speaks as she did Monday morning at the National Association of Business Economists, it's important to listen.

Her key points are largely good. The labor market has been weak. Federal Reserve action, far from being dangerously inflationary, "has been running for some time now a little below the rate of 2 percent per year that the committee judges to be consistent with the Federal Reserve's dual mandate." What's more, the prolonged span of high unemployment creates "risk of longer-term damage to the labor market and the economy's productive capacity." Therefore the responsible stance for the Fed is a hawkish approach to the labor market and a grim determination to boost short-term growth, as the best way to preserve the economy's long-term capacity. Consequently, she emphasizes that the promise not to raise interest rates until unemployment drops below 6.5 percent or inflation rises above 2.5 percent is a floor not a ceiling. They'll think about raising rates if either of those triggers is met, but hikes won't be automatic. They'll depend on a larger assessment of the state of the labor market.
All excellent stuff and it leads one to believe she'd be at least as good as Fed chair as Bernanke and probably somewhat better.
What's disappointing, however, is that she continues with Bernanke's habit of describing current monetary policy as "highly accommodative." That's not a technical economics term, so it's difficult to say precisely that it's wrong. But it's certainly misleading. It is true that nominal interest rates are low. But what is being accommodated here? Not only is the labor market weak, it's been weak for a long time. And inflation, as Yellen herself emphasized, has been consistently below the Federal Reserve's target rate. Imagine giving the Fed a single mandate to target the price level at a 2 percent growth rate. You'd say that if that was the Fed's mission, then the Fed has consistently been running an excessively tight monetary policy. But the Fed doesn't have a single mandate. It has a dual mandate to address both price stability and the labor market. But adding the labor market into the picture only intensifies the conclusion that monetary policy has been consistently too tight. Perhaps among themselves the Fed's governors define "highly accommodative" in such a way as to be compatible with slightly too low inflation and much too high unemployment, but if so, they should spell out in more detail what they mean.

---