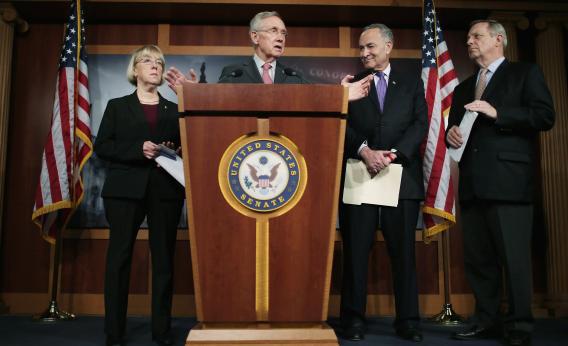 Republicans have their "Path to Prosperity" and today Senate Democrats are rolling out the "Foundation for Growth"—their balanced answer to the GOP's all-cuts budget document. You can read it here:
The nickle summary is that this does $1.85 trillion in deficit reduction. That's $975 billion in tax hikes and $975 billion in spending cuts plus $100 billion in new stimulus. The tax hikes are intended to come from curbing loopholes and deductions for high income taxpayers and corporations, but the details are left up to the Finance Committee.
The cuts come about 25 percent from the military, 25 percent from reduced interest payments, and the rest divided between health care and non-health care functions. The assumption is that the health care cuts can be made on the provider side—though, again, details are left to the Finance committee. Those dollar targets are lower than the ones for provider-side cuts that the White House has previously endorsed so there should be a broad menu of options to choose from.
At a briefing earlier today, committee aides spent a fair amount of time jostling with journalists over baseline issues. The way this works, more or less, is that the Budget Committee started with the $2.4 trillion in mostly-cuts deficit reduction that's already been enacted if you don't count sequestration. This new round of deficit reduction is meant to, among other things, supplant sequestration and thereby achieve (and somewhat exceed) the old Simpson-Bowles goal of $4 trillion in deficit reduction. Which is to say that if you enacted the Senate Democrats budget you'd end up with discretionary spending that's higher than if you fully implemented sequestration, but an overall deficit that's lower since tax revenues are on the table.
The overall result is a budget that's super-boring but reflects voters' preferences for a mix of tax-side and spending-side deficit reduction much more faithfully than Paul Ryan's plan.
---